Big 12 News
NCAA Bans Oklahoma State Basketball From 2021 NCAA Tournament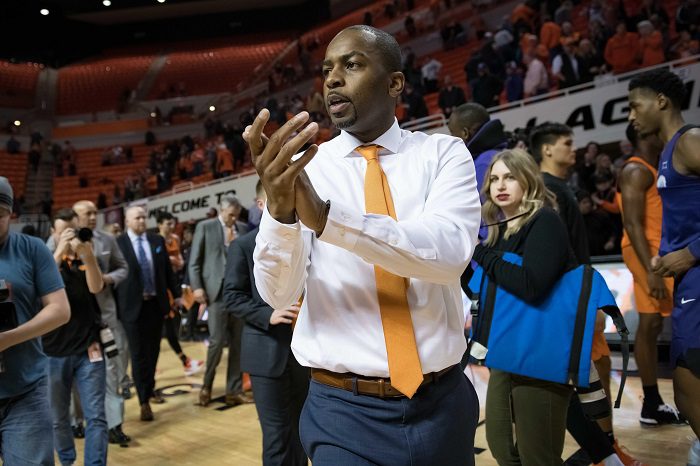 The NCAA Committee on Infractions placed Oklahoma State's men's basketball program on three years of probation and banned the Cowboys from playing in the postseason, including the NCAA Tournament, in 2021.
These penalties stem from actions by former associate head coach Lamont Evans, who accepted between $18,150 and $22,000 in bribes to steer players from South Carolina and Oklahoma State to certain agents and financial advisors. In June 2019 he was sentenced to three months in prison.
Also, Oklahoma State has had its basketball scholarships reduced by three during the 2020-21 through 2022-23 seasons and imposed other recruiting restrictions.
Oklahoma State tried to get ahead of this as the Cowboys had previously self-imposed a $10,000 fine plus 1% of its men's basketball operating budget and reduced the number of official visits for three years.
In its decision, the NCAA committee announced, "The conduct at issue in this case was related to a broader scheme that involved money and influence at the intersection of college and professional basketball. The scheme resulted in the arrest and prosecution of multiple individuals — including college basketball coaches — on conspiracy and bribery charges, and it led to significant NCAA reforms."
Oklahoma State is the first program to receive NCAA sanctions for rules violations related to the federal bribery and corruption criminal cases. Two other Big 12 schools, Kansas and TCU, along with Louisville, NC State, South Carolina, and USC have announced that they've received NCAA notices of allegations.
The big question now in Stillwater: What does Cade Cunningham do? He is the No. 2 recruit in the nation and has signed to play in Stillwater. He's the projected No. 1 pick in the 2021 NBA draft. Oklahoma State hired Cunningham's brother as an assistant coach last summer.
**Want to win a $25 gift card?  Go sign up here and join our conversation! The best poster each week wins a gift card to your favorite establishment!**