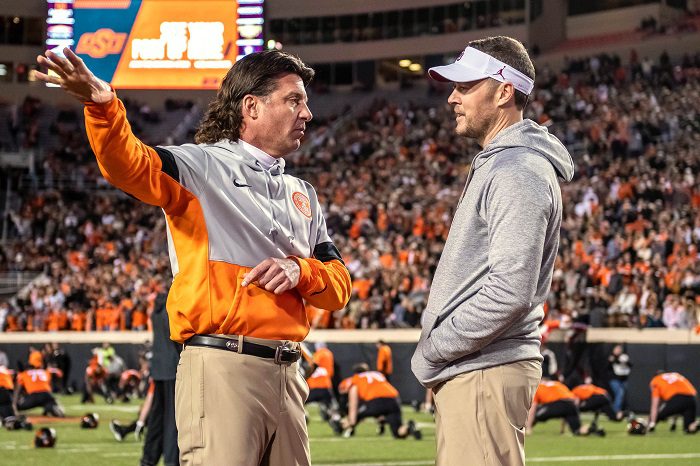 As we (hopefully) inch closer to the college football season getting underway, there's still hope for every Big 12 fan base to think it can make a run at a conference title. Hell, let's be honest, we might be thinking about the Big 12 football season more than ever before, because there is no baseball, golf or NFL training camps to take our mind off of other things happening right now.
So as Big 12 fan bases are dreaming of full stadiums and pigskins, let's play a "one word" association game with how each Big 12 team can win the conference this fall.
Baylor Bears
Defense
The Bears rode their top-notch defense all the way to the Big 12 Championship Game last season and Matt Rhule rode it to an NFL coaching job with the Panthers. The question now is if former LSU defensive coordinator Dave Aranda, who has certainly coached several high-quality defenses, can keep it going?
Iowa State
Hump
Don't get any funny ideas. The Cyclones need to get over the "hump". They have the talent but lost too many close games last season. That needs to change. This proves it's harder to go from eight to ten wins than from five to eight. Iowa, Baylor, Oklahoma State, and Oklahoma were all decided by seven points or less. Split those games and 2020 will be different with a quarterback who could end up as a Top 15 NFL Draft pick.
Kansas Jayhawks
Can't
I'm not trying to be too rude and dismissive (OK, maybe a little), but they can't. If Kansas gets to four wins this season, that's a great step in a positive direction. They won't be winning the conference and won't be close to it.
Kansas State Wildcats
Linemen
Kansas State is replacing all five starting offensive linemen for the first time in at least 31 years in Manhattan. They have a senior signal caller in Skylar Thompson, which is obviously a great thing to have, but if the line can't keep him upright, then K-State won't be building on the eight wins from 2019. On the defensive line, Wyatt Hubert is a stud who returns at defensive end, but outside of that the rest of the line is also up in the air. That's a lot of new pieces in the trenches for Chris Klieman.
Oklahoma Sooners
Rattler
From Mayfield to Murray to Hurts… to Rattler? For several years now an OU quarterback is considered a Heisman Trophy contender. Assuming Rattler gets the job, this will be the first time Lincoln Riley is not working with a transfer and truly has "his own" quarterback to develop. For OU to keep its streak of Big 12 titles going, Rattler needs to seamlessly fill the void under center.
Oklahoma State Cowboys
Bedlam
Yes, Oklahoma State needs to win Bedlam. Mike Gundy is 2-13 against Oklahoma. This year he gets OU earlier in the season (October), which is good considering he's going up against a redshirt freshman QB. He has the veteran QB and more returning starters. Sure, it's in Norman, but Gundy needs to pick this one off to get himself in the Big 12 Championship Game. Why? Because sometimes Gundy's teams play up and down to competition. I expect them to lose a game they shouldn't this fall, meaning they'll have to make it up somewhere. That's the OU game and it's a great opportunity to take this team's confidence to the next level.
Texas Longhorns
Ash
After strong defenses the first couple of seasons in Austin, things didn't work out for Tom Herman last season. That resulted in a change at defensive coordinator with Todd Orlando fired and former Rutgers head coach Chris Ash hired. Ash and Herman worked together at Ohio State and Herman's future at Texas may rest heavily on what Ash does with that side of the ball that struggled last year through injuries and more. Texas ranked 8th in total defense in the Big 12. I expect UT to put up points with Sam Ehlinger, but the defense, which is made up of many recruits from a stellar 2018 class, the time is now for that side of the ball to go beyond individual talent and become a great unit.
TCU Horned Frogs
Duggan
Max Duggan stepped into a tough spot as a true freshman QB, but his legs were miles ahead of his arm. TCU had the worst pass efficiency by a wide margin in the Big 12 (112.4 vs. 127.5 for WVU at #9). And Duggan loses a first-round NFL Draft pick in Jalen Reagor. Jerry Kill was brought in to essentially be the head coach of the offense and now it's time to see what he can do to put together an offense that matches Gary Patterson's stout defense, something which hasn't been done in at least three years.
Texas Tech Red Raiders
Secondary
Matt Wells has his hands full in turning this around, but a good place to start would be stopping the passing attack after Texas Tech ranked last in the Big 12 in pass defense efficiency. There are still a ton of question marks, especially at safety, however JUCO transfer Cam White might be a person who can help in a unit that desperately needs it.
West Virginia Mountaineers
Points
The Mountaineers just need to get more points on the board. WVU averaged 20.6 points per game, three points per game less than Kansas. They're 321 yards per game was nearly 40 yards per game fewer than Kansas State. This team had a similar problem to TCU last season: an offense that could not come close to matching a stout defense. Jarret Doege gives WVU fans a reason to be optimistic, but there are still many question marks (like the running game) that need to be squared away to see dramatic improvement.
Powered by RedCircle
**Want to win a $25 gift card? Go sign up here and join our conversation! The best poster each week wins a gift card to your favorite establishment!**