Baylor Bears
Two Big 12 Players Selected on First Day of 2020 MLB Draft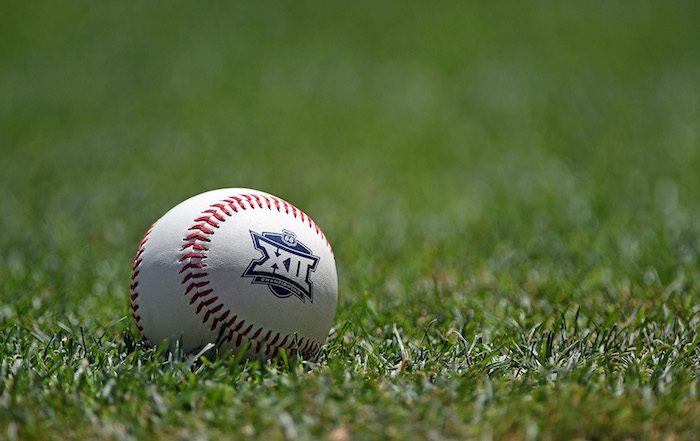 Two Big 12 players were taken on the first day of the 2020 Major League Baseball First-Year Player Draft.
Oklahoma RHP Cade Cavalli was the lone Big 12 player selected in the first round. The Washington Nationals picked up Cavalli with the 22nd overall pick. Baylor SS Nick Loftin was selected 32nd overall in Competitive Balance A Round. The Kansas City Royals took Loftin. It's worth noting the first round only saw 29 picks. The Houston Astros lost their draft pick as a result of the investigation from the sign-stealing scandal which took place in 2017 when they went on to claim their first-ever World Series Championship.
Cavalli, who played for USA Baseball after his sophomore season, posted a 3.28 ERA in 2019.  While his 2019 stats were solid, it seemed like Cavalli learned to command the strikezone better. After having a strikeout-to-walk ratio worse than 2:1 in 2019, he started off 2020 with 37 Ks and just five walks in 23.2 innings pitched. In 2019, he did not even average a strikeout per inning. While the Nationals will not be focusing much on Cavalli's hitting, he can place the bat on the ball. In his first two seasons with the Sooners, Cavalli blasted 10 home runs, two triples and 12 doubles. His 2019 average with 72 at-bats in 31 games was .319.
After being named 2020 Preseason Big 12 Player of the Year by three different publications including the coaches of the Big 12 Conference, Nick Loftin could easily be a millionaire. With a slot value of over $2 million, Loftin helped build Baylor into a contender under coach Steve Rodriguez. The Corpus Christi native posted a career average of .313 and career slugging of .481 during his time with the Bears. Each of his first two seasons saw Loftin score more than 50 runs. Loftin has a little bit of pop in his bat with 14 total home runs in addition to speed with 11 career stolen bases. If he continues to have power and show speed, he'll be one tool away from the coveted five-tool designation. The one skill he has lacked so far is fielding. In each of his first two season, Loftin surrendered 12 errors. That's fixable though. If there's one thing they can teach in the minors, it's defense.
The final four rounds of the 2020 MLB Draft will start 4 p.m. CT and be aired on MLB Network, ESPN2 and MLB.com.