Big 12 News
Chuba Hubbard Says He Won't Play for Oklahoma State Due to Mike Gundy's T-Shirt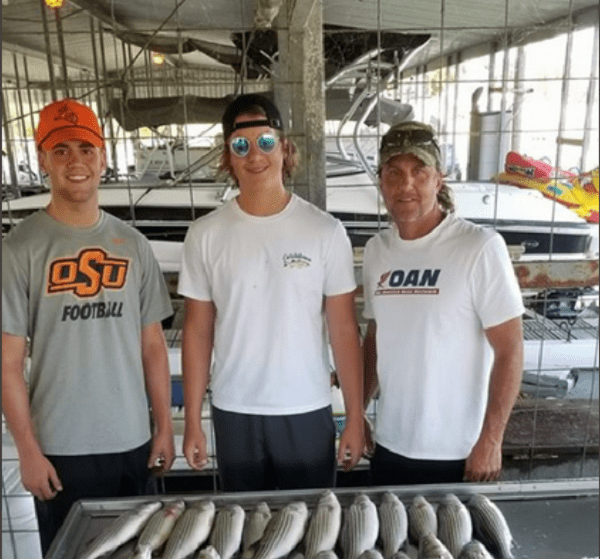 These are certainly emotional times we are living in as Americans. Tensions are high and politics are at every corner.
That is now taking place at Oklahoma State. Head coach Mike Gundy was pictured fishing over the weekend on Lake Texoma wearing an "OAN" t-shirt, which is One America News Network. The network is considered one with political views favorable to President Trump and having a right-wing bend to its news delivery.
After the post surfaced on Monday morning and went viral courtesy of Pistols Firing Blog, star player and Heisman contender Chuba Hubbard wrote on Twitter that he will not being doing anything with Oklahoma State until things change.
What does that mean exactly? Not playing football? No practice? And what does "change" require? Mike Gundy to physically change his shirt? Or…? It's not entirely clear.
Regardless, his teammate, linebacker Amen Ogbongbemiga agreed with the sentiments.
Former players have also chimed in on the conversation.
Of course many on social media will praise this, but at what cost? Regardless of support, or lack thereof, for a TV network, do we know anything behind Gundy wearing this shirt? What specifically has OAN supported or has someone said on the channel that might bother Hubbard?
The young man is entitled to his opinion, like we all are, but I genuinely wonder what is the end game of all this? Stop a guy from watching a TV network that we don't even know for certain he watches because of a t-shirt he's wearing while fishing (which most of us don't save our favorite t-shirts for)? Regardless of how you feel politically right now, this is a slippery slope that doesn't end well for anyone.
**Want to win a $25 gift card? Go sign up here and join our conversation! The best poster each week wins a gift card to your favorite establishment!**