Big 12 News
Oklahoma State Fans Start Petition to Lift Postseason Ban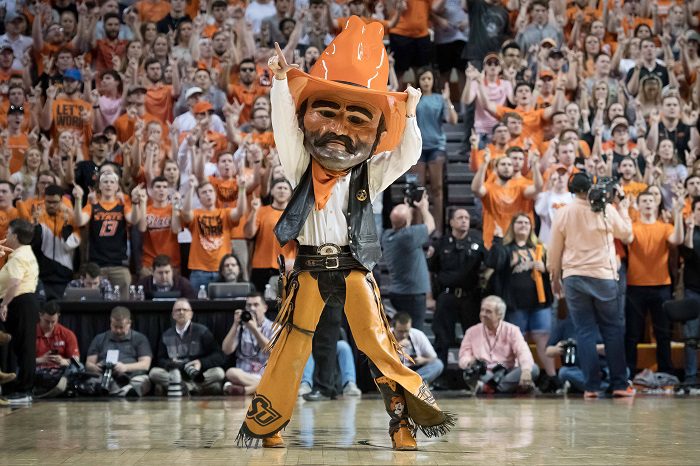 It's been a chaotic few weeks at Oklahoma state and within the athletics department. The Cowboys have dealt with all the drama surrounding Mike Gundy's t-shirt and of course there is the 2020-21 postseason ban for the basketball program.
Well a group of fans are fairly trying to push back on lifting the postseason ban, which Oklahoma State is currently appealing.
As a result, a Change.org petition has been launched where Oklahoma State fans are trying to get 25,000 signatures to lift the postseason ban.
The petition reads as follows:
"In 2017, Oklahoma State assistant basketball Lamont Evans was involved in a bribery scheme, leading to FBI and NCAA investigations.  The University cooperated fully with both the FBI and NCAA.  Within days of the news breaking, Evans was fired from the basketball program.  A player on the team even admitted that Evans had given him a few hundred dollars.  Now, in 2020, with a whole new coaching staff and no one from that year's team still playing for Oklahoma State University, the NCAA has imposed unreasonably harsh sanctions on the program, all of whom had no involvement in the case.
Among the sanctions handed down by the NCAA include a postseason ban for the 2020-2021 season and a scholarship reduction of three between the 2020-2021 season and the 2022-2023 season.  These are on top of the University's self-imposed $10,000 fine in addition to 1% of the program's operating budget, and a lowered amount of official visits allowed for recruits for three years.
This petition is to show the NCAA that the punishment given to Oklahoma State University is overly harsh and unreasonable, and that the postseason ban should be lifted and the number of scholarships taken away should be reduced."
If you are inspired to sign the petition, they're looking for another 10,000 signatures as of this writing to get to the goal of 25,000. You can sign it here.
Oh and now with news that No. 1 recruit Cade Cunningham is still planning to play for the Cowboys, this petition potentially carries even more weight.
**Want to win a $25 gift card?  Go sign up here and join our conversation! The best poster each week wins a gift card to your favorite establishment!**