Big 12 News
Mike Gundy: Oklahoma State Players Calling Me Disconnected 'Broke My Heart'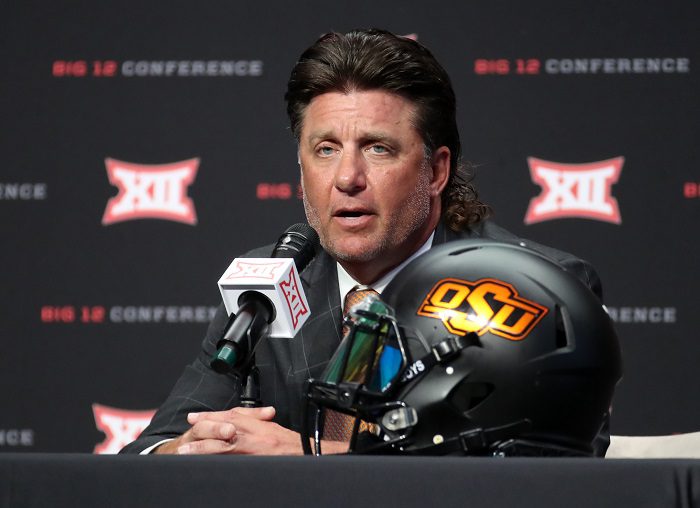 It's been a chaotic couple of weeks for Oklahoma State football and head coach Mike Gundy, who has been embroiled in push back from his own players and media following a photo surfacing of Gundy in an OAN t-shirt. 
Well Gundy has been making some media rounds and recently told Pete Thamel of Yahoo Sports that hearing that Cowboys players felt he was disconnected broke his heart in comments published Tuesday.
"There have been a lot of teachable moments for me here recently. When the players said they felt I was disconnected, it broke my heart. Hearing that led me to look at myself and acknowledge that it's probably true. I've spent a lot of time listening and learning lately, and now I feel better about moving forward in developing deeper relationships with my players. That's what they told me they wanted and that's now a top priority for me."
Per Thamel, a few examples were mentioned, including Gundy's reported inability to remember younger players' names, while also his decision to continue practice after walk-on Anthony Diaz nearly died on the field after his heart stopped during one November session. Generally, it was Gundy's distance from the program and a coach who had lost touch with his team and players.
Gundy has been the Cowboys' head coach since 2005 and has spent the bulk of his life in and around Stillwater and Oklahoma State football. He was also an Oklahoma State assistant from 1990 to 1995 and 2001 to 2004 and played quarterback for the program from 1986 to 1989.
**Want to win a $25 gift card?  Go sign up here and join our conversation! The best poster each week wins a gift card to your favorite establishment!**