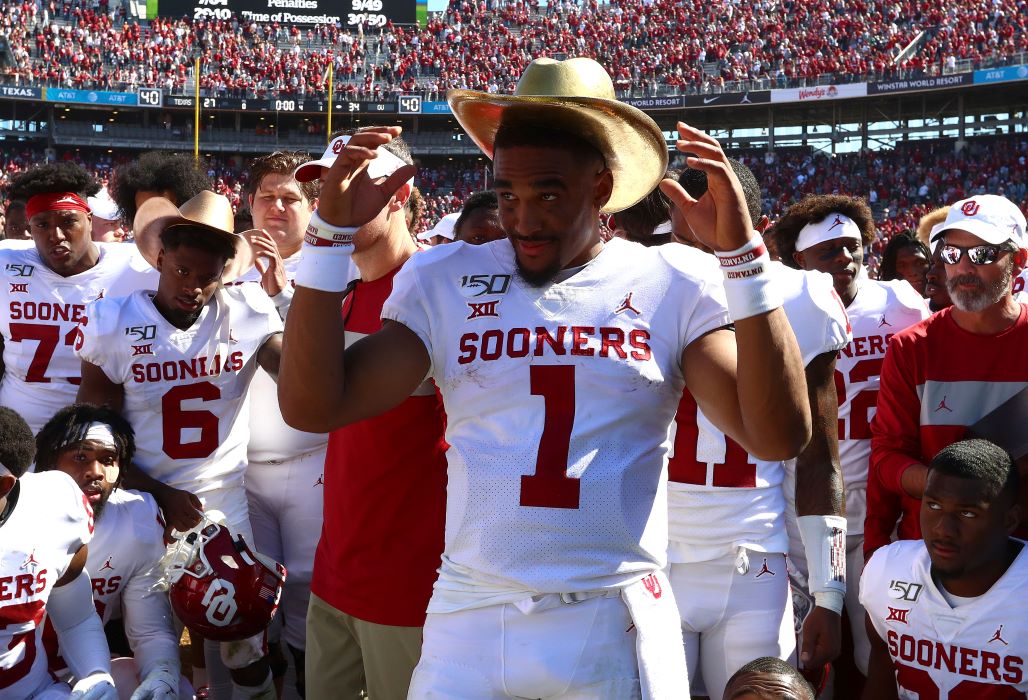 Of course we are all excited to (hopefully) get the 2020 college football season underway in just a couple of months. But that doesn't mean there aren't players we will miss seeing on the field as well. The Big 12 had a great season ending with a Big 12 Championship that went to overtime between Oklahoma and Baylor and resulted in another berth in the College Football Playoff. Plus, there were fans in the stands, which might not be the case this season.
In many ways, I'm already nostalgic for 2019. So before we spend most of the summer looking ahead to 2020, let's look back on 2019 and talk about five players I'll miss from the 2019 season.
5. Iowa State DT Ray Lima
This might be an odd choice for many of you. I mean, who likes to watch big, burly, defensive tackles who don't pile up many stats? Well, I do! And you know why, because the Big 12 has had many of them of this quality in the past decade or so. Those days feel like they are over for the Big 12, but I hope they are slowly coming back with the likes of Ray Lima, Ross Blacklock (TCU) and Bravvion Roy (Baylor). Big 12 coaches know they need more of them to get back to being in the national conversation with the SEC. We're seeing that focus at places like Baylor, Iowa State, Oklahoma, TCU and Texas. Lima was a linchpin for Iowa State, which had the best defense in the Big 12 the last couple of seasons.
4. Baylor DE James Lynch
Lynch was the Big 12 Defensive Player of the Year who was coming off the edge and wrecking havoc in the backfield against every Big 12 team. He led the Big 12 with 12.5 sacks last season, 5.5 more than anyone else in the conference. His 18.5 tackles for loss were second in the Big 12 behind the man in front of him in these rankings. Lynch was fun to watch anchor a Baylor defense that was the reason this team was an overtime away from a Big 12 Championship and a berth in the College Football Playoff.
3. Texas Tech LB Jordyn Brooks
Sure, Texas Tech's defense wasn't exactly lights out while Brooks was in Lubbock, but man was this guy all over the field. It felt like he was involved in every play. And the numbers somewhat back that up. He was second in the Big 12 last season with 108 total tackles and led the Big 12 with 20 tackles for loss. I'll miss his being all over the field. I love defense and I love that the Big 12 is starting to play more of it recently.
2. Oklahoma QB Jalen Hurts
Whoever Lincoln Riley has at quarterback is probably going to be someone we miss when they're gone, but the good news is it's "next man up" in Norman. Hurts was not as fun as Baker Mayfield or Kyler Murray, but he was still an elite player who had success at Alabama and translated that success to OU. The way he led the Sooners back against Baylor in the regular season was admirable. He couldn't sling it like his two predecessors, but his aggressive running style was still fun to watch as well.
1. TCU WR Jalen Reagor
Some of you might be shocked by Reagor being at No. 1. He's going to go down as one of the missed opportunities of the Gary Patterson era. He never produced like he should have because he never had the offense or quarterback to get the job done. But I think to moments like his Alamo Bowl during his freshman season against Stanford (5 catches, 169 yards and a touchdown). Or the awesome game against Oklahoma State to end his sophomore campaign (8 catches, 91 yards, 5 carries, 121 yards and two touchdowns) and think to myself, "What could have been?" When he made explosive plays it was a joy to watch, it's just a shame there could not have been more of them.
**Want to win a $25 gift card? Go sign up here and join our conversation! The best poster each week wins a gift card to your favorite establishment!**