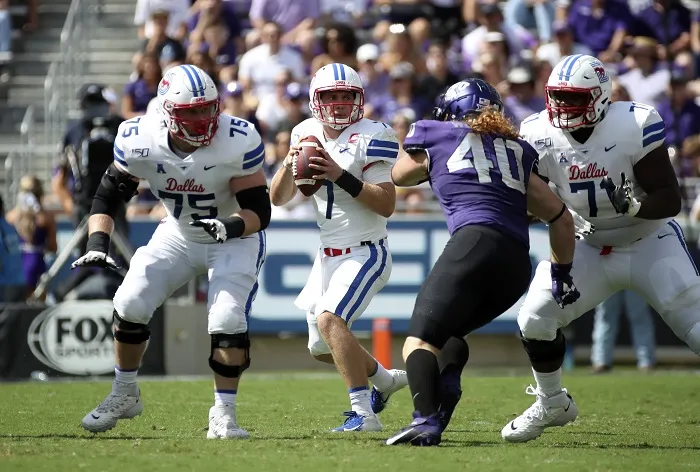 As we get closer to the college football season (hopefully) happening, it's always fun to look at some players who we should all get to know who could make life difficult for our favorite teams, and the quarterback position always gets the most attention.
The good news for the Big 12 is many of their top opponents find themselves with quarterback battles (Iowa) or just general uncertainty on who exactly might be the signal caller (Boston College). Then there's just the overall mediocrity of those who are returning (Florida State, Maryland).
So this list isn't exactly a "Who's who?", but it gives you some insight into what quarterbacks could give the Big 12 some trouble in the non-conference slate this fall.
Myles Brennan, LSU vs. Texas on September 12th
OK, so he's not Joe Burrow. But hell who is. And he's got quite a combover by the way. But Brennan is a fourth-year junior who is now in charge of taking over the National Championship Tigers program. He hasn't played much in the way of meaningful football, but he came to LSU as the No. 6-ranked pro-style quarterback in his class and has had plenty of time to learn and enhance his craft in the quarterback room.
Jarrett Guarantano, Tennessee vs. Oklahoma on September 12th
Jarrett Guarantano is a senior with 25 starts in 34 games. He's been hit or miss for much of his career, but as he heads into his final season behind one of the best offensive lines in the SEC, it might be his time to shine as Tennessee hopes to be a dark horse in the SEC East. At his best, he plays like he did last season against Missouri when he had a career-best 415 yards passing to clinch a bowl berth. At his worst, he's a middle-of-the-pack Power 5 starter. Let's see which one shows up in Norman this fall.
Chase Garbers, Cal vs. TCU on September 5th
Garbers leads a unit that returns every starter from Cal's 35–20 win over Illinois in the Redbox Bowl and is a unit that came on late last season. He missed the first four games last season with a broken collarbone and concussion, but then the team and the unit began to mesh nicely. In wins over Stanford, UCLA and Illinois to close the season, Garbers completed 66 percent of his passes for 787 yards with six touchdowns and only one interception.
Grant Gunnell, Arizona vs. Texas Tech on September 19th
Sophomore quarterback Grant Gunnell, who shared the 2019 starting job with two-year starter Khalil Tate, is considered by many a rising star at his position in the Pac-12. He threw for 1,239 yards, completed 65.1 percent of his passes and was intercepted just once as a freshman. The former Texas high school quarterback may be a familiar face to many Big 12 fans who also follow high school ball in the Lone Star State and now get to see him take on the Red Raiders this fall for a look at what Year 2 looks like under his leadership.
Shane Buechele, SMU vs. TCU on September 26th
Speaking of former Texas high school quarterbacks, how about one who checks off that box and is a former Big 12 quarterback. Yep, that's Shane Buechele, who transferred from Texas to SMU and helped lead SMU to double-digit wins. He threw for nearly 4,000 yards, with 34 touchdowns to 10 interceptions, while completing nearly 63% of his passes. Who knows how his career might have been different if Sam Ehlinger didn't take his job away from him (fairly so, I will add), but I'm happy to see Buechele have this kind of success since leaving Austin. He's an easy guy to root for.
**Want to win a $25 gift card?  Go sign up here and join our conversation! The best poster each week wins a gift card to your favorite establishment!**