Big 12 News
Oklahoma's Lincoln Riley: 'I Just Can't Imagine a Scenario' Where We Don't Play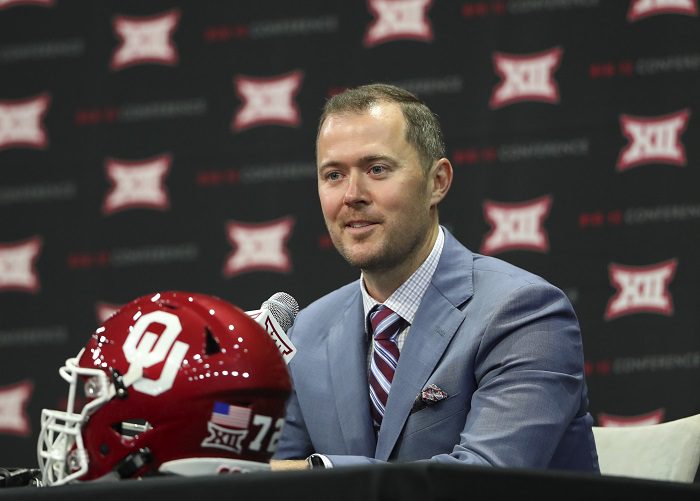 With coronavirus cases increasing, the uncertainty of a college football season is real. However, Oklahoma head coach Lincoln Riley said he remains confident there will be college football this season, but admits it might look different.
Lats week the Big Ten and Pac-12 announced a move to conference-only play and while the Big 12 hasn't made a decision, their hand might be forced if more dominos fall.
But Riley said he was confident in a season, commenting, "I just can't imagine a scenario [where we don't play]. Whether it's something we do in the fall, whether it's a shortened season, whether it's spring, there's nothing we should take off the table. Regardless of what we have to do, I don't think there's anything we can't work around and we can't adjust and can't make work in order to play college football. We've all got to do our part on that."
Riley has been very cautious throughout the entire process, as OU players did not return to campus until July 1, later than other Big 12 schools. He said the key is simply time, giving medical professionals and schools the longest runway to find a workable plan.
Oklahoma's football program had 14 players test positive for Covid-19 during the first round of testing, but the Sooners announced no new positive results among 89 tests performed last week.
Riley said the safety of staff and players remains the most important issue, but he admitted that the economics for not just the university, but the surrounding town and community is so reliant on college football, he wants to see a season work.
Riley added, "If we can't do it, we can't do it. But if we can, college football is so important to these communities, these universities, these athletes — not just football athletes, but college football affects every athlete on every campus. It's a big, big deal. It's not more important than health, but if we can get it to a safe place, we've got to find a way to get it done, whenever and however."
**Want to win a $25 gift card?  Go sign up here and join our conversation! The best poster each week wins a gift card to your favorite establishment!**