Big 12 News
Chuba Hubbard's Twitter Account Goes Inactive, Then Reemerges, After Calling for Oklahoma County DA to Resign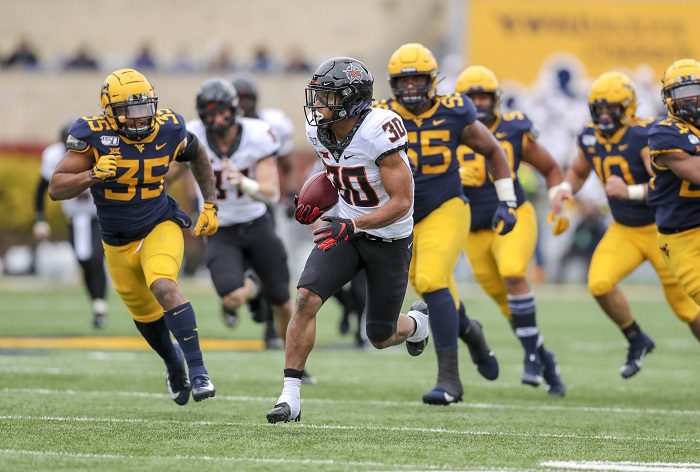 Chuba Hubbard's Twitter account no longer exists as of Monday night just hours after he used his account to call for Oklahoma County District Attorney David Prater to resign.
Here's a look at what his tweets looked like before the deactivation of his account.
As you can see, the hashtags used by Hubbard include #PraterMustResign, #DropAllCharges, #OKC and #DefundThePolice, in which he accused Prater of "abusing his power as an elected official to charge demonstrators exercising the First Amendment with terrorism and ONE MILLION dollar bail."
It's been a very busy few weeks for Hubbard who made headlines a few weeks ago and called out head coach Mike Gundy for wearing an OAN t-shirt. Hubbard later smoothed things over with Gundy and apologized for taking his concerns to Twitter.
It's still not clear why Hubbard's account went inactive Monday night, but he did receive plenty of push back from fans on his stance.
UPDATE:
Hubbard returned to Twitter on Tuesday afternoon and defended himself in part, saying, "I have never incited or promoted violence. All I have done is voice my opinions on issues I feel are unethical! I love all! Even those that don't see eye to eye with me! … I have noticed that my social media has become a playground of hate.. that's the last thing I ever wanted to happen. You will hear me.. you will see me.. You will feel me!!! But not on Twitter or any other socials until further notice! All love Chuba RMN"
You can see the full post below.
**Want to win a $25 gift card? Go sign up here and join our conversation! The best poster each week wins a gift card to your favorite establishment!**