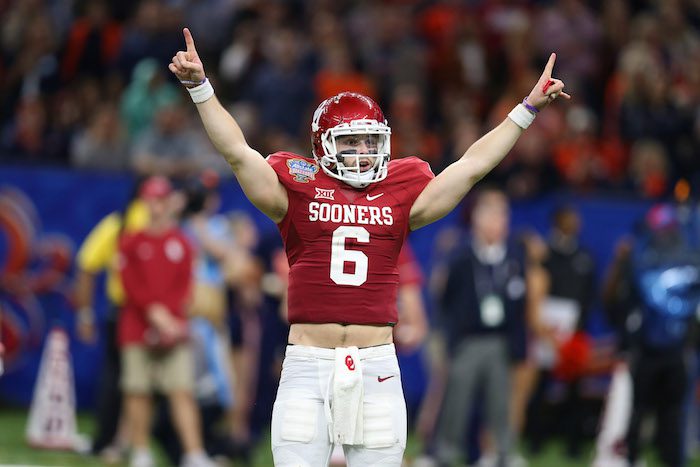 While I was scrolling through social media the other day, I caught something that grabbed my attention. There was a debate going on in the world of high school football to see who belonged in the high school Mount Rushmore for each position group in recent memory. So, I thought why not do a Big 12 version of that? It would be an interesting debate but instead of giving a bunch of different options, I came up with my own Mount Rushmore of Big 12 players.
As always, quarterbacks get all the attention so why not start with my top four signal callers of the Big 12? Of course, it was a bit difficult picking just four so I thought I would throw in a few honorable mentions out of respect. Keep in mind, these players are in no order, just the four best that came to mind.
Texas Quarterback Colt McCoy (2006-2009)
Not only is Colt McCoy top five in career passing yards and passing touchdowns in Big 12 history, but he also has most wins in Big 12 history with an outstanding record of 45-8 as a starter. In fact, that was a college football record until Boise State's Kellen Moore broke it back in 2011. He also holds just about every Texas school record for passing with 112 passing touchdowns and 13,253 passing yards. Even though he did not win a title (Yes, we all remember the injury in the Rose Bowl against Alabama), I do not think it hurts his outstanding resume overall. Without a doubt, Colt McCoy belongs in the top four Big 12 quarterbacks of all time and one could argue that he is the best.
Oklahoma Quarterback Sam Bradford (2007-2009)
Crazy to think that Sam Bradford and Colt McCoy were playing in the conference at the same time. Even though he does not rank in the top ten in the Big 12 in terms of career passing yards or touchdowns, Sam was one hell of a football player. In his first two seasons as a starter, Sam threw for nearly 8,000 yards while tossing 86 touchdowns on just 16 interceptions. In his magical 2008 season where he wont the Heisman Trophy, Sam tossed an incredible 50 touchdown passes which is second all time in Big 12 history for a single season. Just imagine what he could have done in 2009 if he did not get injured early in that season. And just like Colt, Sam took his team to a national title but did not bring home the championship. Still, it was one hell of a run and he wound up being the number one pick of the 2010 NFL Draft.
Texas Quarterback Vince Young (2003-2005)
I will just go ahead and say what everyone already knows. He put on the greatest performance in a championship game I have ever seen against USC in the 2006 Rose Bowl. That performance alone is worthy enough for him to be on this list, but Vince was the man before that game. While his 2003 season was a time to figure things out, it was not until 2004 when the light came on as we saw flashes of who he would become. He led Texas to a Rose Bowl victory over Michigan in 2004. It was not until 2005 where his arm started to become a factor almost as much as his legs. He rushed for over 1,000 yards in 2004 and in 2005 but in 2005 he threw for 26 touchdowns which was more than double that he threw in 2004. But he would not be on this list without taking home a Big 12 title in 2005 as they beatdown Colorado 70-3 and beat back to back national champion USC 41-38 in a Rose Bowl for the ages.
Oklahoma Quarterback Baker Mayfield (2015-2017)
I know that he played at Texas Tech to start out with but Baker Mayfield's claim to fame comes from Norman, Oklahoma. Baker led the Sooners to three straight Big 12 titles during his time at Oklahoma and is second all time in Big 12 career passing touchdowns with 131. He also is third all time on the Big 12 career passing yards list as well. Did I also mention that he won a Heisman trophy in 2017? I know love to hate him but to go from a walk on to a Heisman trophy winner is an incredible story and to throw in the fact the he is one of the best quarterbacks in Big 12 history is like the cherry on top. Baker was a winner and since Colt McCoy and Sam Bradford, there is no other Big 12 quarterback that has had a better career up to this point.
Honorable Mentions
Baylor Quarterback Robert Griffin III (2008-2011)
Robert is one of the most exciting players in Big 12 history to watch. He showed promise in his freshman season back in 2008 but his sophomore season was cut short due to an ACL injury. So, it really was not until his final two years until we knew just how good he was. He did not light up the stat sheet in 2010 either but it is hard to argue just how good he was in 2011. He put Baylor football on the map as he threw for 37 touchdowns on just 6 interceptions and won the Heisman trophy that year. Much like Sam Braford for Oklahoma, I wish we could have seen more of him, but injuries got in the way a bit.
Oklahoma Quarterback Landry Jones (2009-2012)
As weird as it sounds, one could make an argument that Landry Jones is the best Big 12 quarterback if we based this off numbers alone. Landry is the Big 12 career record holder in passing yards with 16,646 and is third all time in Big 12 passing touchdowns with 123 scores through the air. He ended up winning one Big 12 title outright in 2010 and a share of one in 2012. He certainly was not an exciting player to watch but his tenure and consistency makes him mention worthy.
Texas Tech Quarterback Graham Harrell (2005-2008)
When you think of some of the best passing quarterbacks in college football history, Graham Harrell has some of the best numbers in the game. Playing under Mike Leach, Tech was known for their juggernaut passing attack over the years and perhaps no Tech quarterback was better at tossing the pigskin around than Graham Harrell. Graham holds the record for Big 12 career passing touchdowns (134) and is behind only Landry Jones for Big 12 career passing yards. In his final three years at Tech, Graham Harrell never threw for less than 38 touchdowns in a single season and won a lot of football games at Texas Tech. During his time in Lubbock, Tech never won fewer than eight games in a season and even had an 11-2 record in his final season back in 2008.
**Want to win a $25 gift card?  Go sign up here and join our conversation! The best poster each week wins a gift card to your favorite establishment!**