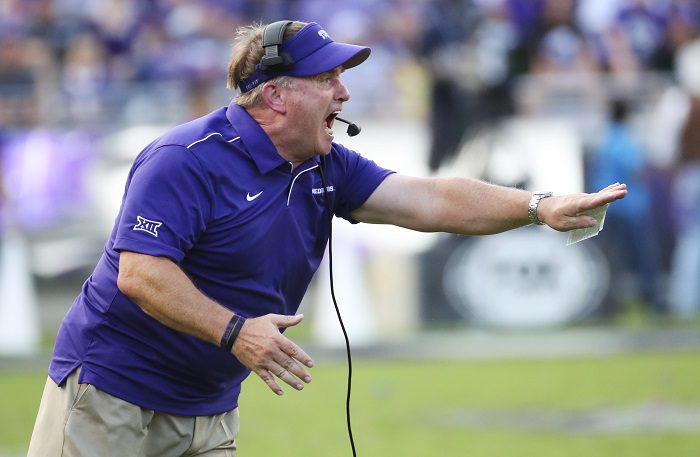 Let's start off by making one thing clear: Barring something unforeseen, Gary Patterson should never be in danger of losing his job at TCU. He is the reason the program is now playing Power 5 Conference football.
We got that out of the way now. We good?
OK, great.
But with that being said, TCU has underacheived each of the past two seasons and it's been because of the program's inability to score points. While Patterson's defensive wizardry has remained on full display, in the end he's the head coach, and is responsible for all three factors of the game: defense, special teams, and yes, the offense.
Last season TCU ranked 7th in the Big 12 scoring offense and total offense and dead last (10th) in pass efficiency. This despite a defense that was No. 1 in total defense and No. 2 in pass defense efficiency.
TCU ended up with a 5-7 season and is now 11-14 in their last two seasons after reaching a Big 12 Title game in 2017. However that's now three of the past four seasons the Horned Frogs have finished between 5-7 and 7-6. After going 40-13 from 2014-2017, TCU is a combined 29-23 from 2016-2019.
This offseason Patterson made a big hire with Jerry Kill now basically in charge as the "head coach" of the offense. Patterson and Kill are longtime friends, and if this can help Max Duggan develop into the passer he needs to be to have success in the Big 12, then it's a huge win for the program.
TCU also comes in the 2020 season having added some huge pieces in recent months. There's five-star running back Zach Evans, the first five-star prospect to come to Fort Worth. TCU also added a former five-star prospect in LSU linebacker Marcel Brooks. More recently it's Nebraska WR JD Spielman via transfer. He had three straight seasons of at least 800 yards receiving and was primed to finish as the program's all-time leader in that category. Now he will have a chance to replace Jalen Reagor.
On the recruiting trail, TCU has averaged a recruiting class just outside the Top 25 in the country the past five years according to 247Sports, which is third-best behind Oklahoma and Texas.
But TCU hasn't turned that success into wins, as programs like Baylor, Iowa State and Oklahoma State have arguably been on a better trajectory.
Once again, Gary Patterson isn't coaching for his job in 2020. Not even close. But after a two-year funk and mediocrity in three of the past four seasons, it is time for the Horned Frogs to get back to the level that Patterson has come to expect from his teams since taking the program from the WAC to Conference-USA to Mountain West to the Big 12.
A few bounces here or there might do the trick as well, as TCU lost five games last season by a touchdown or less. But unless the offense improves, it's likely that TCU will have to eek out those close games to get back into the win column more often than not.
If I had to win one game in the Big 12 on a given Saturday, I'd make a strong case to take Gary Patterson over Lincoln Riley. I really love the guy as a head coach.
When ESPN did its "Coaches Film Room" during the College Football Playoff, I would watch Patterson on that show over the game itself 10 out of 10 times. But if TCU finishes 2020 with another season hovering around .500, my opinion on that will start to look silly. And I know none of you would want my opinion to look silly. Right?
**Want to win a $25 gift card?  Go sign up here and join our conversation! The best poster each week wins a gift card to your favorite establishment!**