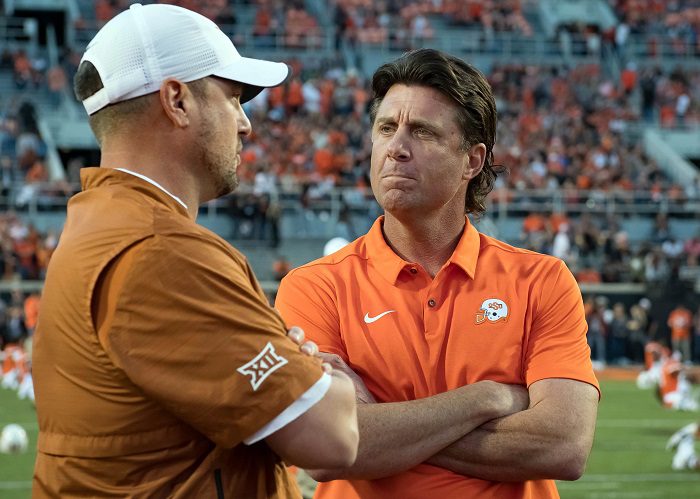 It's that time of year to start thinking about what a "dream" Big 12 football road trip would look like.
Of course this year is a little bit different as we have no idea what stadium capacities are going to look like, and heck, we are still technically unsure what the season itself will look like.
That being said, I want to give you all, and myself, a sense of normalcy, so I am still going to put together my dream Big 12 road trip for the 2020 college football season. But there is a caveat: I am going to only do the conference schedule, since we don't have a clue what the non-conference is going to look like. Also as usual, you have to go to each Big 12 stadium once.
So let's get to it.
Saturday September 12th: Baylor vs. Kansas
This is the first Big 12 conference game of the season and while it's not one that is "can't miss", I want to make sure I get to as many games as possible. Plus the atmosphere in Waco should be great after last season's run to the Big 12 Championship Game and the fans will be welcoming in new head coach Dave Aranda. Also, we will get a look at what Les Miles might be able to work with in Year 2 (if anything). So all in all, it's a chance to get to a game and have a good time with the folks in Waco!
Saturday September 26th: West Virginia vs. Kansas State
Morgantown is beautiful this time of year. Not so much in late November. So let's get it going with the Mountaineer Faithful when it's still warm and sunny and the fan base is fired up as the season is just getting underway. Also, this will be a telling game for both teams as we will get a look at Kansas State's revamped offensive line against arguably the best defensive line in the Big 12. A lot of good storylines to follow.
Saturday October 3rd: Texas Tech vs. West Virginia
We will be following the Mountaineers for the longest road trip in the Big 12 – Morgantown to Lubbock. Both of these teams came up one game short of bowl eligibility last season. And whoever wins this game will have a big leg up on taking that next step in Year 2 under their current head coach. It's not the sexiest game on the schedule, but it fits our requirements.
Saturday October 10th: Kansas State vs. Kansas
The Sunflower Showdown. And you might be shocked because this is Texas vs. Oklahoma weekend. But remember the requirements. Each Big 12 stadium once. And the Red River Rivalry is played in a Big 12 stadium. That's what makes these rules fun, you need to be smart with how you structure the games. So if Les Miles is going to make a jump in Year 2, beating your rival is never a bad way to get a little mojo behind the program. And K-State may be taking a step back this season with so many pieces leaving or graduating. However, K-State should remain a heavy favorite in this game.
Saturday October 17th: Iowa State vs. Oklahoma
We now shoot up to Ames for a match up between the Cyclones and Sooners that could have Big 12 title implications. Iowa State has played OU very well since Matt Campbell came to the program. The last four years this game has been decided by 10 points or less, including a 2017 Iowa State win and a one-point loss last year after ISU went for the two-point conversion and the win, but came up short. Both these teams could end up in a Big 12 Championship Game if things break right.
Saturday October 24th: Oklahoma vs. Oklahoma State
Speaking of teams ending up in a Big 12 Championship Game, that's also what Oklahoma State is hoping to do and Bedlam could play a big role. We know Mike Gundy has struggled in this game going 2-13 against OU, but could this be the year he breaks the curse with the more experience on both sides of the ball? Also, we are used to this game being at the end of the season since realignment took place, but having it in the middle of the year is an fun twist.
Saturday October 31st: TCU vs. Oklahoma
Halloween in Fort Worth and it's also the third game in a row we are following Oklahoma. That's not a bad thing necessarily, but this is a big three-game stretch for Lincoln Riley's program with two of them on the road against two of the better Big 12 defenses, including, of course, Gary Patterson's. Last year it was a four-point loss for the Horned Frogs, but since joining the Big 12, Coach P is just 1-8 against OU.
Saturday November 7th: Kansas vs. Texas
We needed to get to Lawrence for a game at some point (no offense, KU), so why not go for Texas, as the Longhorns could be in the thick of a Big 12 race at this point and it just might be a game they overlook, which could make this one interesting. Les Miles always sneaks up on teams when you least expect it and Tom Herman has, at times, had a knack for playing up or down to competition. For his sake, I hope this isn't the game, but you can't beat the fall in early November in Lawrence, KS (as a Kansas City resident, I can attest to that), so this seems like as good a time as any to get there for a game.
Saturday November 14th: Iowa State vs. Baylor
As we head down the home stretch we go back to Ames, the only location that ended up on the list twice. Iowa State and Baylor played an awesome game early in the 2019 season that really set the tone for both teams: Iowa State losing close games and Baylor winning close games. That's what happened last year. It was also a defensive brawl between two of the best units in the Big 12. That could be the case again this year. And with all the offense we see in the league, taking a break with a defensive showdown could be a lot of fun.
Saturday November 21st: Texas vs. Iowa State
For a second-straight week we find ourselves following the Cyclones down the Austin to take on the Texas Longhorns. In fact, the last two games for Texas could likely decide who ends up playing in the Big 12 Championship Game. These two teams are both looking to be the one to break through and take down the Sooners from their perch in the conference. But first, they'll need to get through each other in a game that pits two of the best, young Power 5 coaches against each other in Tom Herman and Matt Campbell.
Friday November 27th: Oklahoma State vs. Texas
It's Black Friday and it's also a game that could be a play-in game for the Big 12 Championship. It's entirely possible this game is to take on the Oklahoma Sooners for the Big 12 crown. If so, I won't miss this one in Stillwater as Mike Gundy and Tom Herman are two huge personalities and egos clashing in one of the biggest games of the college football season. Sign me the hell up and then send me to Eskimo Joe's after the game to end a helluva road trip that will never be forgotten.
**Want to win a $25 gift card? Go sign up here and join our conversation! The best poster each week wins a gift card to your favorite establishment!**