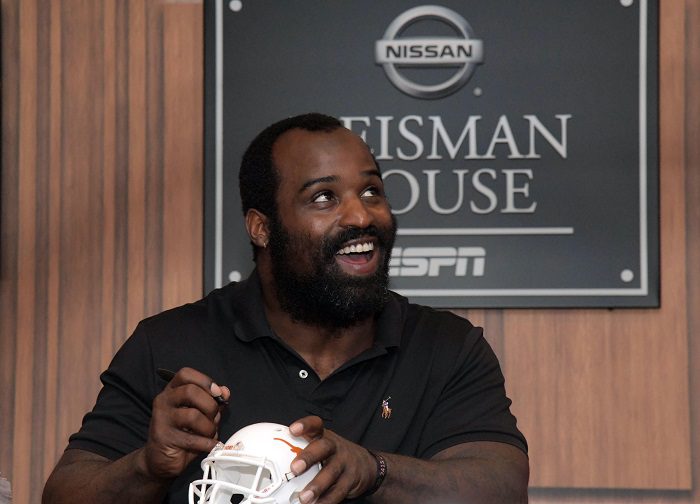 While I was scrolling through social media the other day, I caught something that grabbed my attention. There was a debate going on in the world of high school football to see who belonged in the high school Mount Rushmore for each position group in recent memory. So, I thought why not do a Big 12 version of that? It would be an interesting debate but instead of giving a bunch of different options, I came up with my own Mount Rushmore of Big 12 players.
As always, quarterbacks get all the attention, so I started with them first but now it is on to the running backs! Of course, it was a bit difficult picking just four so I thought I would throw in a few honorable mentions out of respect. Keep in mind, these players are in no order, just the four best that came to mind.
Texas Running Back Ricky Williams (1995-1998)
Even though Ricky played his freshman season in the Southwestern Conference, it would be insane to leave him off this list. From his sophomore season in 1996 to his senior season in 1998, he was arguably the best running back in college football during that time. Not only is Ricky the all-time leading rusher at Texas but he is the second all-time leading rusher in Big 12 history rushing for over 5,200 yards and 64 rushing touchdowns. However, do not forget that he almost racked up nearly 1,000 receiving yards as well. Oh yeah, in case you forgot, he won the Heisman trophy back in 1998.
Oklahoma Running Back Adrian Peterson (2004-2006)
How can you forget about Adrian Peterson running over defenders or outrunning them? He is probably my favorite running back to watch in recent memory and even though he just played three seasons in Norman, he was still able to rush for over 4,000 yards. Do not forget he was a bit banged up his final year there but still, people like Adrian Peterson come around maybe once every fifty years. While he has a successful NFL career, he was still an incredibly good running back in college and someone who I will never forget. Remember, it is not AP, it is AD. All Day.
Texas Running Back Cedric Benson (2001-2004)
I feel like people sometimes forget just how good Cedric Benson was in college. From his freshman season in 2001 to his senior year in 2004, Cedric rushed for at least 1,000 yards and in his final three years in Austin, he never rushed for less than 1,293 yards in a season. And due to Ricky Williams playing a year in the Southwestern Conference, Cedric Benson is the all-time leading rusher in Big 12 history with 5,540 rushing yards and 69 rushing scores.
Kansas State Running Back Darren Sproles (2001-2004)
Do not let Darren's size fool you, this man was born to be a football player. He is the best running back in Kansas State history and maybe one of the best to put on a Kansas State uniform. While he did not see much action in his freshman year, Darren was still able to put some huge numbers as he rushed for nearly 5,000 yards in his college career and scored a total of 47 touchdowns. He also played a key factor in helping his team win the 2003 Big 12 title and no matter who you talk to, he is still do this day, one of the most electrifying college football players of this century.
Honorable Mentions
Oklahoma Running Back Samaje Perine (2014-2016)
It would be foolish of me to leave off the all-time leading rusher in Oklahoma history. Even though he played in just 36 total games, Samaje is seventh on the all-time Big 12 rushing list with 4,122 yards and 49 rushing touchdowns. Call him whatever you want but he was productive as can be for the Sooners and maybe is the most underappreciated backs on this entire list.
Oklahoma Running Back DeMarco Murray (2007-2010)
While his rushing stats fall short of fellow Sooner Samaje Perine, Demarco Murray was a superstar in his own right. Sure, he rushed for 3,685 yards and 50 touchdowns but it was what he was able to do in the passing game that makes him so special. Demarco hauled in 157 receptions for 1,571 yards and 13 touchdowns during his time in Norman and that is what made him such a deadly weapon on offense.
Texas Tech Running Back Taurean Henderson (2002-2005)
I will be honest with you; I had a hard time leaving Taurean Henderson out of my top four. However, he never rushed for over 900 yards in a season. But he did manage to rush for over 3,200 yards in his college career but that is not the impressive stat with him. Taurean rushed for 50 touchdowns during his time in Lubbock and with their crazy air raid attack, he totaled over 2,000 receiving yards and 19 receiving touchdowns as a running back. That is wide receiver numbers right there. There is no doubt he is one of the best dual threat backs out of the backfield in Big 12 history. 
**Want to win a $25 gift card?  Go sign up here and join our conversation! The best poster each week wins a gift card to your favorite establishment!**