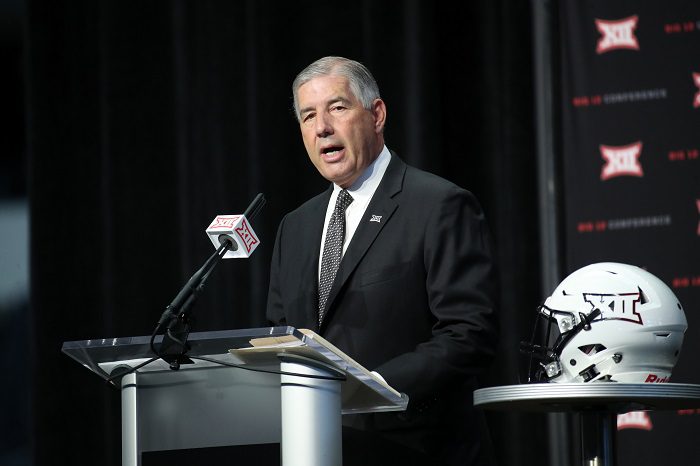 It's time for the Big 12 Conference to finally stop following and start leading and there is no better time than now. Whether it was conference realignment 10 years ago or even the plan to cancel non-conference play, the Big 12 seems to always be the last one to the party to make a decision. The conference has become notorious for being a follower not a leader.
Well in these unprecedented times, it's a chance for the Big 12 to do something it's not historically done: Be a leader.
Not only can they be a leader, but they have a chance to grow the conference and become wildly popular amongst fans who may not have traditionally have considered themselves Big 12 fans or followers.
After news that the Big Ten is reportedly considering cancelling its 2020 football season, could teams like Nebraska, Iowa, Ohio State and Michigan be looking for another conference to play with this fall? It's a long shot, but possible.
That's where the Big 12 needs to step up today, Tuesday, and commissioner Bob Bowlsby should announce that the Big 12 is going ahead with a conference schedule as planned, and if there are any teams from other conferences interested in joining them to play football this fall, then they need to reach out to Bowlsby directly and make their pitch.
It's an easy pitch and script to write and I would be willing to help Bowlsby at a fee that is much lower than some of the other legal and writing fees he's likely to deal with in a given year.
Too often the Big 12 has lingered and waited to see which way the wind blows before making a major decision. They'll wait for the Big Ten and the SEC. But in this case, there is no point in waiting.
There is overwhelming support from the college football world to play, the players and coaches are on board with a #WeWantToPlay hashtag that went viral and the medical analysis generally favors the idea of playing and as many have noted, players are likely better off staying healthy on campus vs. being at home.
The Big 12 has a chance to grow in popularity, not wait for the crowd and possibly expand its own geographical footprint and brand at a time when the college sports world is likely to undergo a massive overhaul in the next half a decade.
The question is: Will they step to the plate? Or go their usual route?
**Want to win a $25 gift card?  Go sign up here and join our conversation! The best poster each week wins a gift card to your favorite establishment!**