Big 12 News
Big 12 Plans to Test Football Players Three Times Per Week for COVID-19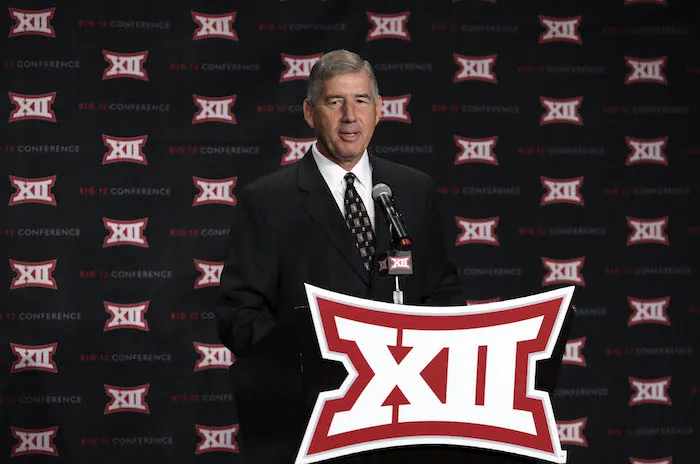 As the Big 12 announced its new 2020 football schedule on Thursday, there were also several other tidbits from commissioner Bob Bowlsby, who discussed at length plans to keep the student-athletes safe for the 2020 football season.
Bowlsby started off by discussion the decision to play, saying, "Opinions vary regarding the best path forward, as we've seen throughout higher education and our society overall, but we are comfortable in our institutions' ability to provide a structured training environment, rigorous testing and surveillance, hospital quality sanitation and mitigation practices that optimize the health and safety of our student-athletes."
Among the efforts included a plan to test athletes several times per week, adding in his teleconference there will be, "three tests per week in 'high contact' sports, like Football, Volleyball and Soccer…return to play protocols after positive occurrences will include an EKG, troponin blood test, echocardiogram, and cardiac MRI."
The testing is expected to take place on Sunday, Wednesday and Friday.
Bowlsby said the testing is obviously the most important factor, hence the plans to test so frequently, adding, "What we do know is testing is the best way to interest early after infection. We need to do a rigorous testing regimen. Positives have to be dealt with very carefully, and follow-up and return to play has to be carefully managed."
Meantime, Big 12 teams are also allowed to add one non-conference game to the schedule, and the commissioner pointed out, "Those opponents will all be expected to adhere to Big 12 testing standards … We feel we're as fully prepared as we can be at this time to move forward."
So while the Big Ten and Pac-12 elected on Tuesday night to not play football this fall, the Big 12 will be proceeding forward in what appears to be a very well thought out, safe, appropriate and responsible.
**Want to win a $25 gift card?  Go sign up here and join our conversation! The best poster each week wins a gift card to your favorite establishment!**