Big 12 News
President Trump is Now Trolling the Big Ten Conference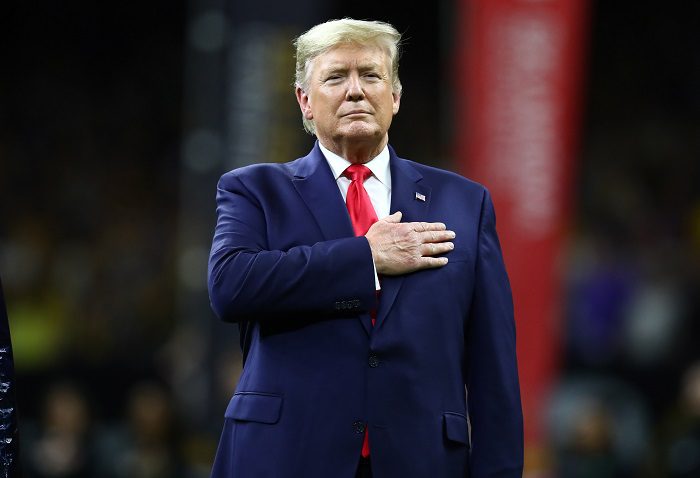 It's not hard to poke fun at the Big Ten Conference right now. They've embarrassed themselves on many levels with their handling of the college football season. First they announced a ten-game conference schedule, but within days the season was postponed indefinitely. Then they talked about possibly a spring schedule, which then got moved to the idea of a schedule starting around Thanksgiving Weekend.
The jokes write themselves.
But now President Trump is getting on on the action, because if there is one thing we can agree on politically in this space: President Trump, love him or hate him, always enjoys taking a shot.
He did that on Sunday in regards to the Big Ten. The college football season got underway with some FCS action on Saturday evening and the President retweeted a highlight, while taking a shot at the Big Ten Conference.
There has been a hint of politics in this scene lately, with Democratic Presidential nominee Joe Biden now running ads in Big Ten country blaming President Trump for the cancellation of Big Ten football. Alas, the President is now pushing back on that notion.
There have also been allegations that the Big Ten has had a political tinge to its decision making on the 2020 football season since Day 1.
Three weeks ago when the debate surrounding college football was raging, the President tweeted out his support of the sport moving forward with a 2020 season.
Regardless, we've done our part in trying to suggest what Big 12 teams Big Ten and Pac-12 fans can start rooting for, at least for the upcoming season.
So while Big Ten fans continue to argue about what the conference should do this fall, the Big 12 fan can kick back and know that the Week 1 kickoff times are set to be announced this week and come September 12th, football will be played.
**Want to win a $25 gift card?  Go sign up here and join our conversation! The best poster each week wins a gift card to your favorite establishment!**