Big 12 News
Iowa State Welcomes 25,000 Fans for Season Opener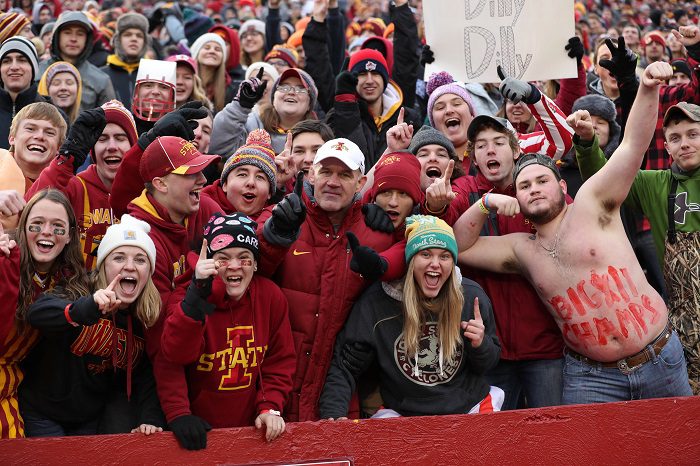 As we are now one week away from "game week" in the Big 12, programs are starting to roll out their attendance plans for the upcoming season.
On Monday morning, Iowa State athletics announced that 25,000 fans will allowed to be in attendance for the game. Jack Trice Stadium holds about 61,000 fans, which means the stadium will be about 40% full for the opening game on Saturday, September 12th against Louisiana-Lafayette.
Iowa State also hopes to have all season ticket holders in attendance for the Oklahoma game on October 3rd.
Here is the exact wording from Iowa State.
Regardless, Iowa State deserves credit, as CycloneFanatic notes, Iowa is not honoring 2021 seats of fans who do not renew for 2020, whereas Iowa State says any fan who does not renew for 2020 will have first rights on their same seats for the 2021 season.
The Big 12 Conference is expected to have kickoff times announced for Week 1 coming in the next couple of days. It's an exciting time for Big 12 fans and compare this to Big Ten fans, who will have no football this fall and are now getting trolled by President Trump.
It is quite a contrast and highlights how wild the last three weeks have been for the college football world.
UPDATE:
Pollard held a press conference on Monday afternoon and said that if the opener with 25,000 fans does not go well, then there will be no fans at the Oklahoma game. If things do go well and people behave, they will allow all season ticket holders to attend the October 3rd game vs. Oklahoma.
Pollard said, "I will have zero tolerance for any fan that doesn't comply. I don't care how much money they give to this institution. I don't care who it is. That is the message."
Want to win a $25 gift card? Go sign up here and join our conversation! The best poster each week wins a gift card to your favorite establishment!