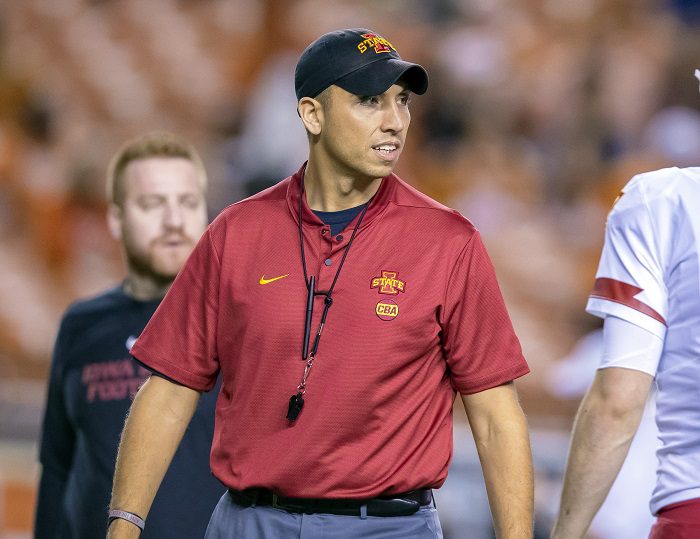 I admit up front with full disclosure that I am an Iowa State fan. When I do the juicy wiggle in the stands, I pity the rest of the college football world for picking the wrong team to root for.
After all, my Cyclones are benevolent.  They usually only lose games due to horrible officiating, questionable calls, and the Big 12's hard-on for all things Texas.
OK, so that isn't actually the reason Iowa State loses 89% of its games.  It usually comes down to a bad break, a missed opportunity somewhere in those four quarters when we settled for a field goal instead of going for a touchdown.
It's actually the way most teams lose games.  Every fan can look back on a season and see the bobbled catch in the end zone, the false start in the red zone or the holding penalty that extended the opposing teams drive.
Always the would-a, could-a, should-a, that cost your favorite team the game.  A few of those, and you are watching the Big 12 Championship with only a mild interest.  Your team, once again, didn't make the cut.
And it seems in the past few years, with the rise of coach Matt Campbell and the resurrection of the Iowa State football squad, someone is picking them as their "Dark Horse" to win the conference.
I wouldn't say it's an off-base projection, but it means that you believe the Cyclones can be in contention to the very end, despite a less-talented roster.
Entering 2020 however, and all bets and reasoning are off.  The lack of practices in the spring and fall thanks to COVID-19 have changed the look and feel to many teams.  
Then there is the shortened schedule coupled with the active testing that could pull any player before a game in a moments notice. Rosters, two-deeps and game plans will be tested like never before this year.
Some Big 12 programs are at a disadvantage by timing alone.  In Matt Campbell's first year he went 2-7 in conference play.  Yet in the offseason he recruited well, and was able to practice at full capacity in the spring and fall.  The next season (2017) resulted in a 5-4 record in conference.  Drastic improvement.
But what about the coaches who have recently taken over programs in 2018-19?  With COVID-19 restrictions and limited practices, they must certainly be at a disadvantage in implementing their philosophy and vision.  How many missed practices will show themselves on game day?
The key here is that half the Big 12 has made a coaching change since 2018.  Kansas State, Kansas, Texas Tech, Baylor, and West Virginia all have coaches yet to have coached two seasons in the Big 12.
This means those programs may be less "cohesive" than programs that have established and veteran players and coaches. Schemes, game plans, and positional acuity come with time and practice makes perfect. Transfers, usually fully engulfed in the schemes and systems by fall camp, may have a more difficult learning curve.
It isn't hard to see why Texas, Oklahoma, TCU, Iowa State, and Oklahoma State from the starting gate are sitting at a stronger advantage. Each have established coaches, game plans, philosophies understood by most players on their teams by years of repetition.
Yet, out of the five teams that have established programs, I'll point out that only two have PROVEN elite and veteran QB's at the helm.  Texas in Sam Ehlinger and Iowa State with Brock Purdy.
With the Big 12 being the most QB dominant league in all of college football, a returning QB that has a proven track record of leadership and success is key.  As the QB performs, usually the team follows.  
Once again the more experience you have under your belt, the less adjustment time is needed.  And with a shortened schedule, there is no time to beat up cupcakes for three weeks.
I'll admit, Iowa State's schedule looks rather grueling with Texas, TCU, and OSU on the road.  But then again, what better year to play teams on the road than 2020?  Fans will likely be a non-factor in the stadiums due to COVID-19 and social distancing protocols.  This year I imagine all games will have the feeling of an open fall scrimmage.
As it sits, Iowa State touts one of the best Big 12 defenses. The Cyclones have one of the top QB talents in the conference with Brock Purdy (and THE best tight end duo by a long shot).
With four years under his belt, Matt Campbell has the structure in place and the ability to make a charge for the Big 12 championship game in 2020.
My final thought would be that nothing could be more Iowa State than finally making the Big 12 championship game with a giant asterisk by the outcome. And that would be due to the shortened season caused by the pandemic.
All of these relevant factors make me more apt to pick Iowa State as the dark horse than any other year before.  Of course, if I'm wrong I will be relegated to the dust bin of other writers and prognosticators who have been proven wrong before me.
This year, I believe Oklahoma will face either Texas or Iowa State in the Big 12 championship game in December.  I will assume Iowa State as the "dark horse" for this event for now, as Texas has nearly an identical feel, but with deeper talent, making them the odds on pick in early September.
Similiar to 2018, the game that will decide who will play Oklahoma in the Big 12 Championship Game will come down to Iowa State going to Texas in November.   
Bottom line, if Texas stumbles this year, look for Iowa State to arrive in Arlington to play for the Big 12 title. 
**Want to win a $25 gift card?  Go sign up here and join our conversation! The best poster each week wins a gift card to your favorite establishment!**