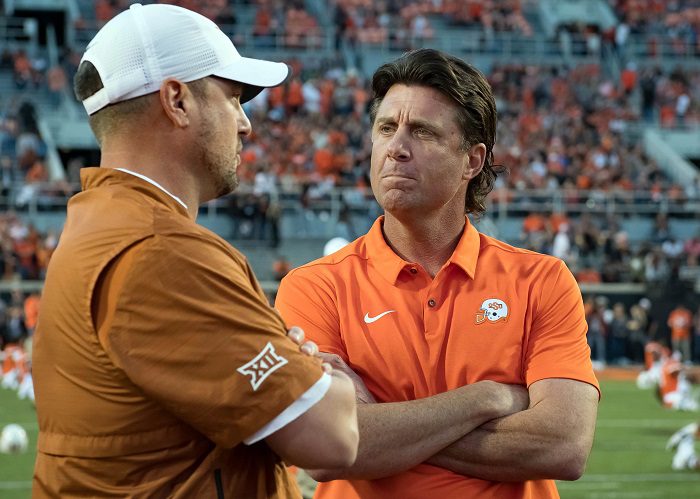 So the Big 12 season lost two non-conference games this fall due to the COVID-19 pandemic. But we are still getting a season, so who is really going to complain?! I'm not.
But it does mean that the win totals have changed for all college football teams who are playing this fall. But we have some updated numbers for Big 12 teams and let's get right to my over/under predictions for the upcoming season.
Baylor Bears, 6.5 wins: Under
The Bears have a tough combination being a team that lost some key pieces from its magical 2019 campaign, along with their star head coach Matt Rhule. Now I think Dave Aranda can carry the torch, but this has been an impossible offseason for a first-year head coach. If Baylor were to go 6-4 this year I'd call that a success, but it still would mean the "under" hits. The middle of the Big 12 is incredibly competitive and I can't see Baylor getting to the seven-win mark.
Iowa State Cyclones, 6.5 wins: Over
This would mean Iowa State goes 6-3 in Big 12 play to hit the over (assuming they beat Louisiana-Lafayette). Iowa State's (and every Big 12 team's) three toughest games is OU, Oklahoma State and Texas. If they win at least one of those games, and they could win two, they could still lose to one of TCU, Baylor, Kansas State and still hit the over. The Cyclones are loaded on defense and have the best, or second-best QB in the conference with monster tight ends that no one else in the conference uses like that to create many mismatches. I like Matt Campbell's team to hit the seven-win mark.
Kansas Jayhawks, 3.0 wins: Under
Give me a win over Coastal Carolina (which as we know is no guarantee) and then find three others? Where? How? Outside of Pooka Williams, the talent gap is enormous. I trust Les Miles and he is doing it the right way recruiting the high school level heavily and actually building a program and depth. But it's not going to happen this year. The Big 12 is too deep and KU is too young and does not have the talent yet.
Kansas State, 5.5 wins: Under
Kansas State is in a very tough spot this year. They are turning over several pieces, most notably the entire offensive line, and they haven't had a full offseason to gel and get this unit on the same page. That is going to take some real, game action to get it going. The key stretch for K-State is the month of October when they have winnable games against Tech, TCU, KU and WVU. If they can get 2-2, they have a shot at the over, but they really need a 3-1 month to feel good about getting to five conference wins. I just don't see them getting there this fall.
Oklahoma Sooners, 8.5 wins: UNDER
Considering the lack of spring practice and a normal and solid offseason for Spencer Rattler, I can see an extra freshman mistake or two possibly costing OU a game that it should not lose. The Sooners will drop at least one Big 12 game, they question is will there be a second? I believe there will be. One of OU's great strengths is the awesome home field advantage. That is gone this year. There are two tough back-to-back stretches for OU against ISU-Texas and then Bedlam followed by a road trip to Morgantown, which is always tough, nevermind after a rivalry game. I like this OU team playing in a Big 12 title game once again, but it will be with two conference losses.
Oklahoma State Cowboys, 7.0 wins: PUSH
Is this a cop out? I guess. But not really. Because I think the Cowboys are looking right at a 7-3 campaign this fall. Mike Gundy's team always loses a game he's not supposed to, and while OSU is bringing a lot back, it's been an odd offseason with all the drama and I wonder how focused this team will be considering the strange circumstances. I want to find justification for the OVER, but at 7.0, I can't do it.
TCU Horned Frogs, 6.0 wins: UNDER
The loss of Max Duggan at QB is really an unknown. It may not be as big of a deal as many believe. Duggan was fine, but he's not a top-tier Big 12 quarterback. At least he wasn't last year. Maybe he was poised to develop into that in 2020, but we will never know. Now it's Matthew Downing at QB and the team has to replace NFL Draft picks on the offensive line and wide receiver. Not easy. The defense will be stout as always, but once again, the offense needs to pull its weight. I am not seeing that just yet, and I will take TCU on the under with a 5-5 season, going 4-5 in Big 12 play. Oh, and don't forget their non-conference game against SMU is by far the toughest non-con in the Big 12.
Texas Longhorns, 7.5 wins: UNDER
I'm not dumb. I'm not taking Texas and an OVER until they prove it (outside of 2018). Like Oklahoma State, I can make a strong case for 8-2, but when push comes to shove, I am not going to bet the mortgage on it. The program has not given me a reason to. Tom Herman gets his guys up for big games, but like OSU, they drop a game they shouldn't. Plus, Texas has new coordinators who did not have a full offseason to work with the guys. Texas can make a Big 12 title game, and 6-3 in conference play might be enough, but I am not taking them to eight wins.
Texas Tech Red Raiders, 4.5 wins: OVER
The Red Raiders are going to sneak up on some Big 12 teams this year. They lost a ton of close games in 2019 and now that Matt Wells has his guys for another year of growth, one or two of those losses to wins and it's a completely different 2019 campaign. Texas Tech also has a slew of important and valuable transfers in Lubbock who are getting overlooked by many in media. I won't be sleeping on the Red Raiders.
West Virginia Mountaineers, 4.5 wins: OVER
The Mountaineers are another team that might be getting overlooked. WVU had a great defense last year and a terrible offense. The defense should be just as stout, possibly the best in the Big 12 this fall. Neal Brown made big strides in Year 2 at Troy and that can happen this fall now that he has this quarterback in Jarret Doege. WVU gets five of nine Big 12 games at home, always an advantage considering the length of the trip, giving them another edge. I will take the over.
Powered by RedCircle
**Want to win a $25 gift card?  Go sign up here and join our conversation! The best poster each week wins a gift card to your favorite establishment!**