The Heart Beat
The Heart Beat (Sept. 7): Gundy vs. Pistols Firing, Fat K-State Linemen and Breakout Player in Ames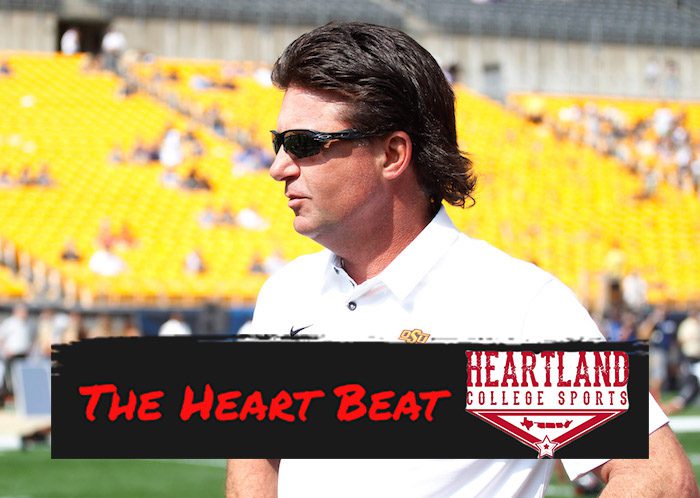 It's time for our links to our favorite bunch of Big 12 content from the previous 24 hours. Think of it as a brunch/lunch links for you to avoid and delay work, plus your boss!
**If there is ever content you'd like us to consider for the following day's Heart Beat, please email me directly: [email protected] or direct message us on Twitter (@Heartland_CS)
Big 12 Football
Kyle Porter of Pistols Firing Blog wrote a fascinating piece on the breakdown of the relationship between his media outlet and head football coach Mike Gundy.
Then, The Oklahoman's Berry Tramel, the most influential sports writer in the state, threw his support behind Pistols Firing Blog.
Over at CycloneFanatic, they are discussing who could be the breakout player on the Iowa State defense this fall.
We've talked a lot this offseason about how Kansas State has zero offensive linemen returning. Of course that could be a problem, but it also could be K-State heaviest offensive line in years, according to GoPowercat.
Here's why the Baylor Bears are thrilled to start the season after an uncertain offseason.
Non-Big 12 content
ESPN has released its college football power rankings heading into Week 1.
Poor Oregon Ducks… stuck at home not playing this fall because of the Pac-12's weak leadership. This despite immense talent in Eugene.
**If there is ever content you'd like us to consider for the following day's Heart Beat, please email me directly: [email protected] or direct message us on Twitter (@Heartland_CS)