Big 12 News
Bob Bowlsby Admits Big 12 Could End Up Like Big Ten, Pac-12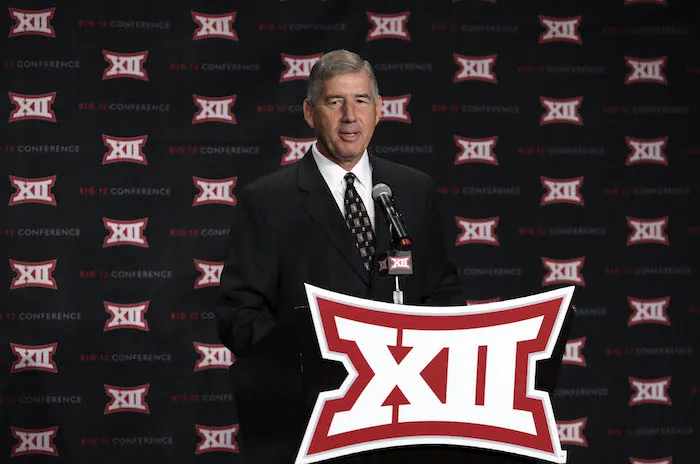 While many of us are celebrating the start of college football season, Big 12 commissioner Bob Bowlsby is not there just yet. He's taking a cautious, albeit optimistic approach to the upcoming season. However the commissioner added that he expects cancellations to pop up as the season progresses.
In a conference call with media members on Monday, Bowlsby said, "We could find ourselves in the same situation that the Big Ten and the Pac-12 are in later in the season. I'm not prepared to have any bravado bout it whatsoever."
Already, the Big 12's opening game between TCU and SMU has been postponed due to a COVID-19 outbreak within the TCU program.
"I don't think the TCU-SMU game is the last game we will not be able to play," he said, adding, "I expect there will be disruptions, and we've already had one. I think all we can do is what we've been doing and that is apply best practices, listen to the doctors and move ahead. That doesn't mean we couldn't have multiple teams on a campus that have a broad infection and we have to shut things down."
Also of note in Bowlsby press conference was the protocols the Big 12 announced for what could cancel a game this fall. The policy includes a minimum roster threshold of 53 total players, including walk-ons, as well as seven offensive linemen, four defensive linemen and one quarterback, and he described it as as an effort to "take the gamesmanship out of it."
Bowlsby went on to say, "If there are 53 that meet that criteria and the 7-4-1 criteria is met, it will be expected that the game will be played… There is the opportunity to go ahead and play if the teams want to, but there also is the opportunity to say, 'Let's postpone it and we will try to reschedule,' and if we can't reschedule then it will be a no-contest."