Big 12 News
Final Preseason Big 12 2021 College Football Playoff Odds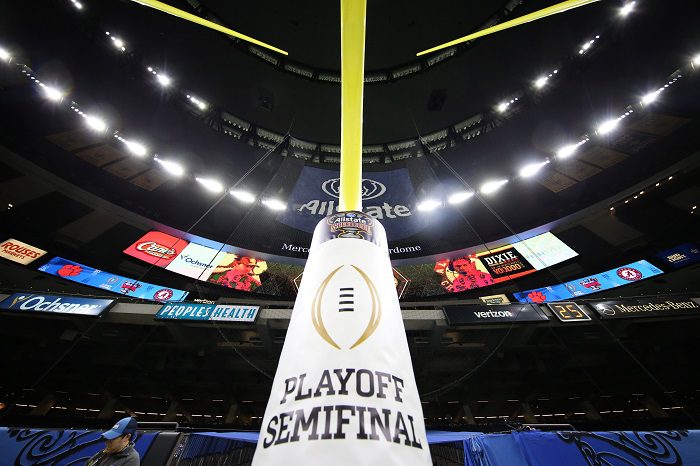 It's game week for the Big 12 Conference, the first of the Power 5 conferences to kick off the season. And with that, it's also the last chance to look at the preseason odds for who will win the 2021 College Football Playoff.
Of course things are different this year as the Big Ten and the Pac-12 will no longer be playing, but there are still plenty of teams capable of winning a Championship and it being fully earned. In fact, the Big Ten and Pac-12 has notoriously not pulled its weight in the CFB Playoff in recent years.
So below are the odds for every FBS team playing football this year, meaning all ten Big 12 teams are given odds to win the 2021 College Football Playoff (from Betonline.ag). Those teams have been bolded below!
2021 College Football Playoff Odds
Clemson 7/4
Alabama 5/2
Georgia 15/2
LSU 12/1
Notre Dame 12/1
Florida 14/1
Oklahoma 14/1
Texas 14/1
Auburn 25/1
Texas A&M 25/1
Miami (FL) 40/1
Oklahoma State 40/1
Florida State 50/1
Iowa State 50/1
Louisville 50/1
South Carolina 50/1
UCF 50/1
Baylor 66/1
North Carolina 66/1
Kentucky 80/1
Mississippi State 80/1
Pittsburgh 80/1
TCU 80/1
Tennessee 80/1
Virginia Tech 80/1
Appalachian State 100/1
Missouri 100/1
Ole Miss 100/1
Virginia 100/1
Wake Forest 100/1
BYU 125/1
Memphis 125/1
Texas Tech 125/1
Arkansas 250/1
Army 250/1
Boston College 250/1
Cincinnati 250/1
Duke 250/1
Georgia Tech 250/1
Houston 250/1
Kansas State 250/1
MTSU 250/1
NC State 250/1
Syracuse 250/1
Temple 250/1
West Virginia 250/1
Texas State 300/1
Tulane 300/1
UAB 300/1
Vanderbilt 300/1
Arkansas State 500/1
FAU 500/1
Kansas 500/1
Louisiana 500/1
Navy 500/1
North Texas 500/1
SMU 500/1
Tulsa 500/1
East Carolina 750/1
FIU 750/1
Louisiana Tech 750/1
Marshall 750/1
Rice 750/1
Southern Miss 750/1
Troy 750/1
USF 750/1
WKU 750/1
Charlotte 1000/1
Coastal Carolina 1000/1
Georgia Southern 1000/1
Georgia State 1000/1
Liberty 1000/1
South Alabama 1000/1
ULM 1000/1
UTEP 1000/1
UTSA 1000/1
Air Force 10000/1
**Want to win a $25 gift card? Go sign up here and join our conversation! The best poster each week wins a gift card to your favorite establishment!**