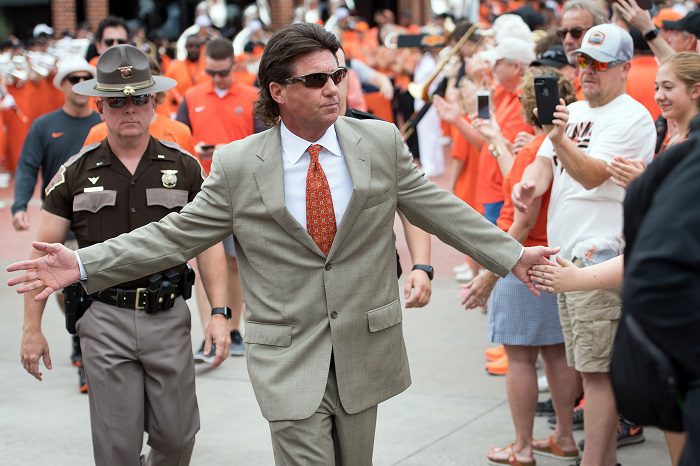 Welcome to the HCS Big 12 mailbag. This mailbag is for all you football junkies out there who root for a Big 12 school who not only have questions about your team, but other teams in the conference as well. So, join me, grab a cold brew or your favorite drink and relax as I answer all your Big 12 questions in my mailbag.
I will pick the best question for each mailbag and label it as my question of the week. The winner gets a free HCS Koozie to keep your beer cold (Unless you like it warm, but that's just plain wrong). I want to thank each one of you who submitted a question this week and for those reading, I am glad you could join me. I am doing this on Monday evening and of course this mailbag wouldn't be nearly as fun without a cold beverage right next to me choice? An ice-cold coffee! I just wrapped up a late-night podcast and after having a drink there, I thought it would be wise to keep myself up for a bit to get through the mailbag. Cheers!
@T_Rex1991 asks: Baylor has a new staff and schemes. Will Aranda and his crew come out the gates in his head coach debut and beat up on Louisiana Tech like he is still an LSU Tiger? Also, will he wear his natty ring while doing so?
Duke: Good news for Baylor is that Louisiana Tech will be breaking in a new quarterback, but the Bulldogs are no slouch coming off a ten-win season of their own. However, the difference for me in this game is Charlie Brewer at quarterback. A veteran quarterback is always nice to have and Baylor has just that. Of course, Baylor has some talent and I think the offense will continue to improve in the coming weeks and I can not wait to see wide out Tyquan Thornton take that next step as well as the offensive line.
And while the Bears have some key pieces to replace from a great defense a year ago, I loved the hire of Ron Roberts at the defensive coordinator who was previously at Louisiana Lafayette. With all this said, Aranda should never take that ring off, but my bottom line is this. Baylor will win but I think it will be no more than a 20-point win.
@spursnsalsa asks: If Gundy doesn't win the Big 12 this year, will he ever win it again?
Duke: Man, this is a tough one. In the last three seasons, I feel like this is by far Oklahoma State's best chance to win a conference title for the first time since 2011. But over the last ten years, Gundy has had some teams capable of winning a title. Not just in 2011 but in 2013 and even going back to 2017 when Mason Rudolph and James Washington came back for their season. 2020 reminds a little of 2017 except that the defense this season should be leaps and bounds better than 2017. Or at least on paper they should be. Are the Cowboys a team that will contend every single year? Maybe not but should they be a program that every two or three years has a legitimate shot at a conference title? As long as Gundy is at the helm, then yes.
@Chrissboom_ asks: How's the WVU defense without coordinator Vic Koenning? And who is your dark horse Big 12 title contender?
Duke: I had to pull this question from last week since I could not get to it, but I still feel fine about the Mountaineer defense. The Stills brothers (Dante and Darius) were both on my first team All-Big 12 ballot on the defensive line and I really like Josh Chandler and Dylan Tonkery at the linebacker spots. To simply put it, I feel good about the defensive line and linebacker positions. My worry only comes from the secondary and specifically at corner. West Virginia lost Keith Washington and Hakeem Bailey from last year and between Nickroy Fortune, Tae Mayo, Alonzo Addae, Jackie Matthews and Dreshun Miller, some of these guys will have to step up. So corner is my only true concern, but this defense is a top four defense in the Big 12.
As far as my dark horse team, TCU was in consideration before Max Duggan went out so for now, I would go with Iowa State since I have them picked fourth in my Big 12 ballot. I know it is not really a dark horse team but outside of Oklahoma, Texas, Oklahoma State, and Iowa State, I do not think any other team can win the conference this season. The reason I pick the Cyclones are due to Brock Purdy and their defense. One could argue that they have a better shot to win the Big 12 this season than they did last season when they were the Big 12 media day darling.
@SethLDow asks: What's the most likely upset for a Big 12 team this week? And which team wins by the greatest margin?
Duke: Great question Seth and thank you for submitting my pick for question of the week as you have earned yourself that free koozie to keep that beer cold. To answer which team is most in line for an upset? I would go with either Iowa State who plays an exceptionally good Sun Belt team in Louisiana Lafayette. You can check out my preview of that game on the site here, but I don't know why but Iowa State seems to sleepwalk a bit in their first game of the season over the years.
Now my pick for the biggest margin of victory is a bit tougher. I think West Virginia could win big along with Oklahoma and Texas Tech but I will go with West Virginia. They play an Eastern Kentucky team that just got beat by Marshall 59-0. 
Powered by RedCircle
**Want to win a $25 gift card?  Go sign up here and join our conversation! The best poster each week wins a gift card to your favorite establishment!**