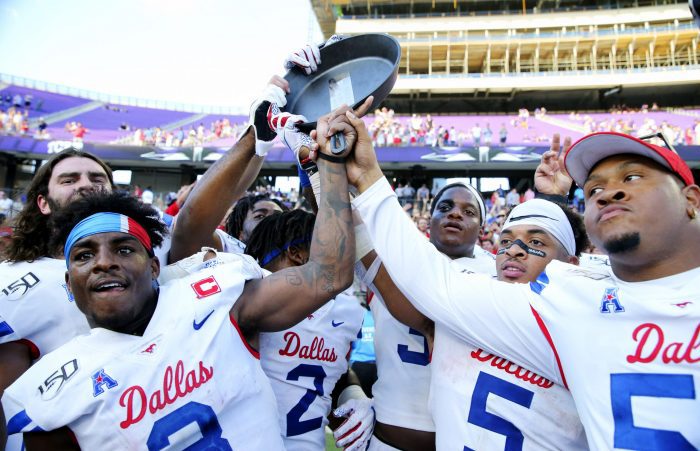 Tonight, was supposed to be the night that Big 12 football returned. By now, some of you would have been a couple drinks in, maybe throwing something on the grill and soaking up some of that Big 12 football we all love.
However, things change in the matter of seconds in this world we live in due to COVID-19 and last week the hammer dropped that our Friday night game between SMU and TCU was postponed. For those that do not know about this rivalry, it dates all the way back to 1915 as the two schools battle it out on the football field for an iron skillet. And in case you are wondering, yes, it is an actual iron skillet.
Since the start of these two schools meeting up each year, TCU leads the all time series 51-41-7 and up until last season, the Horned Frogs had won seven straight against the Mustangs. But that all changed last season as SMU knocked off TCU for the first time since 2011. Yes, TCU has had two subpar seasons in Fort Worth and the Mustangs in Dallas have had their own fair share of struggles over the years. But it appears that head coach Sonny Dykes has maybe turned the ship at SMU as his Mustangs won ten games last season which is something that has not happened there since 1984 back in the Pony Express days.
Now I have no idea how these two would have faired off against one another because going into last weekend, SMU was maybe the best group of five team heading into this season. However, after their lackluster performance against Texas State has me wondering, maybe TCU would have the upper hand in this game even without starting quarterback Max Duggan who will be out for a while. While this game has been postponed, there has not yet been a date for this game to be reschedule and heck, it may not happen this season.
Of-course all rivalry games are fun, and each side likes to poke the other and get under their skin. But how often does one team cook up their opponent on an iron skillet?
**Want to win a $25 gift card?  Go sign up here and join our conversation! The best poster each week wins a gift card to your favorite establishment!**