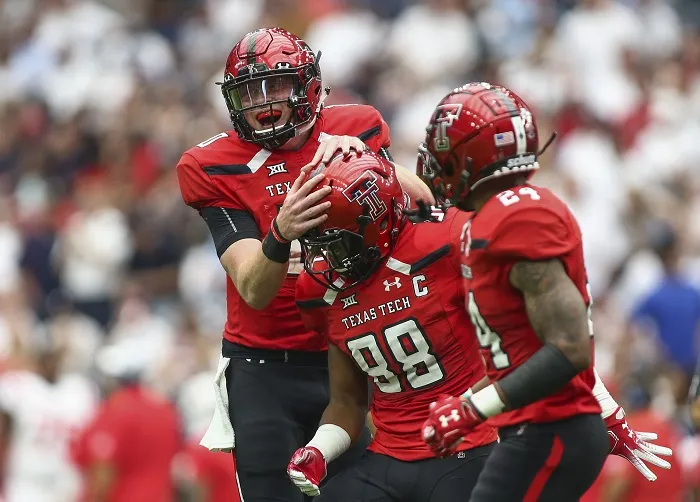 Here is everything you need to know about the upcoming Big 12 match up in our Texas Tech vs. Houston Baptist preview and prediction.
Game Info
Saturday, September 12th, 2020; 7:00 p.m. CST kick off, Jones AT&T Stadium, Lubbock, Texas
TV: Big 12 Now on ESPN+ (sign up through HCS for $4.99 per month and cancel any time)
Radio: TTU Sports Network (Brian Jensen, John Harris, Chris Level)
Opening line: OFF
Fun Fact: Houston Baptist offensive coordinator and quarterbacks coach Zach Kittley is the son of longtime Red Raiders track coach Wes Kittley, special teams coordinator and running backs coach Tyler Schovanec is the son of Texas Tech president Dr. Lawrence Schovanec and offensive line coach Jared Kaster was a four-year letterwinner at center for the Red Raiders. All three previously served on the TTU staff.
Key Players
Texas Tech Red Raiders
QB Alan Bowman
Let's be honest: this is a tune up game for Texas Tech and all eyes will be on Bowman, how healthy he looks and how much rust he needs to knock off after not seeing game action in about one year. He has all the potential in the world, but injuries have held him back. Getting a confidence boost against a lesser opponent is key for Bowman in this game. For his career he has started 120 games with 3,658 passing yards, 23 touchdowns and a 68.2 completion percentage.
Safety Eric Monroe
Monroe is the safety transfer from LSU who is hoping to make an immediate impact for Texas Tech's defense. Monroe was a former top high school prospect who was slowed by injuries and even better talent in Baton Rouge. However he did play in 12 games last season for the national champions, with seven tackles. Now he heads to Lubbock to try and make a statement to wrap up his career. We'll see how that starts on Saturday.
Houston Baptist Huskies
QB Bailey Zappe
Zappe completed 39 of 62 passes in last week's season-opening 57-31 loss to North Texas. The senior has plenty of experience under his belt after  he started all 12 games in 2019, completing 357-of-560 passes for 3,811 yards, 35 touchdowns and 15 interceptions and led the Southland Conference and ranked second nationally with 317.6 passing yards per game. If HBU is going to have any type of "upset alert" moment, it will be because Zappe has some seen live bullets this season, while Tech, who is still rebuilding its pass defense, is rusty and not prepared.
LB Caleb Johnson
The senior linebacker led the Huskies with 12 tackles in last week's loss. But he's also a third-year starter with plenty of experience. Johnson started 10 games i n2019, ranking second in the Southland Conference and 10th nationally with 10.4 tackles per game. He also ranked 10th in the league in sacks, 14 in tackles for loss and fifth in fumble recoveries per game. He also totaled 104 tackles, six sacks, two fumble recoveries and an interception.
Key Storylines
Texas Tech Red Raiders
The Red Raiders need the offense to pour it on the Huskies, who struggled mightily on defense last season. Plus all the new graduate transfers need to get more comfortable at their respective positions and with their new teammates. Alan Bowman should take some shots down the field and see how his shoulder is feeling. But giving it a test run in a game like this is important.
Houston Baptist Huskies
The Huskies have to try and keep up on the scoring with the Red Raiders. That's their only hope of a massive upset. This team hasn't been able to stop anyone, as they gave up over 40 points per game in their losses last season, but they can put up points as well. If Tech's defense picks up where it left off at times last season (the worst pass defense efficiency in the Big 12), maybe HBU can keep it interesting.
Prediction
Texas Tech 56, Houston Baptist 21
This is Houston Baptist's first game ever against a Power 5 opponent. It won't be pretty, but in fairness it should not be pretty. Texas Tech will have most of its starters out of the game sometime in the second half, but the goal is to keep Bowman healthy and build some confidence between all the new faces as this is the only game to work out the kinks before conference play begins in two weeks against the Texas Longhorns.
**Want to win a $25 gift card?  Go sign up here and join our conversation! The best poster each week wins a gift card to your favorite establishment!**