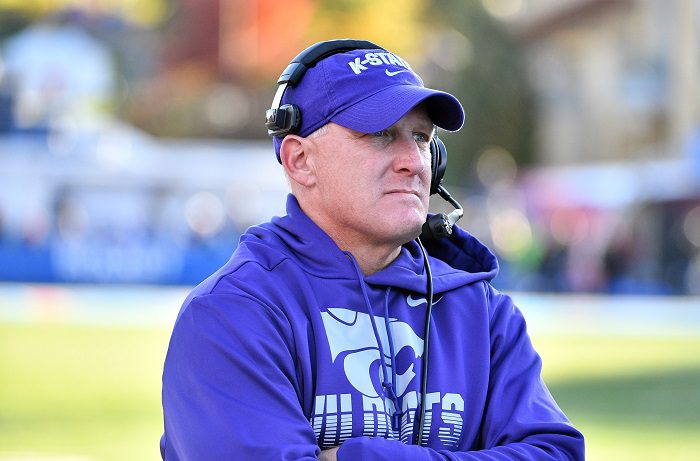 At the 12:42 mark of the second quarter, Deuce Vaughn scored a one-yard touchdown as Kansas State would go up 21-7 over Arkansas State. Things were looking great in Manhattan as Chris Klieman was kicking off Year 2 as head coach of the Kansas State Wildcats.
But then things began to change in Manhattan. Arkansas State, out of the Sun Belt, put together a quick score on five plays, with Jeff Foreman finding Roshauud Paul for a 48-yard touchdown. That was following by Kansas State's Blake Lynch missing a 43-yard field goal. K-State did force a fumble deep in its own territory to end the first half, but the momentum had already swung in favor of Arkansas State.
In the second half, the Kansas State offense remained stagnant, with a total of eight players over its first two drives. Arkansas State missed a 38-yard field goal in between those drives, but then the Ragin Cajuns struck again, on a five play, 77-yard drive that included a 58-yard run by Lincoln Pare. Kansas State and Arkansas State were now tied at 21 early in the fourth quarter.
Blake Lynch would then go on to miss another field goal, this time from 47-yards.
Now, Arkansas State put together its most impressive drive of the game, that started and ended with star wide receiver Jonathan Adams. He began the drive with a 21-yard catch and ended the 10-play drive with a five-yard touchdown grab from QB Logan Bonner.
But the Wildcats finally showed some grit in this game, down a touchdown with about 10 minutes left, the Wildcats strung together a 10-play drive of their own, which included converting a 4th and two in their own territory, and ended with Harry Trotter's five-yard touchdown run to tie the game at 28 with six minutes to play.
The Wildcats, for the first time since early in the second quarter, had flipped the momentum to their side, and went on to force Arkansas State into a three and out, which included a nice pass break up by A.J. Parker against Jonathan Adams.
Then on the next drive, Blake Lynch, who had missed two field goals all of last season, but had missed two on the day, nailed a 35-yard field goal with 2:30 remaining in the game to put the Wildcats back on top 31-28.
On Arkansas State's final drive of the fourth quarter, Kansas State strong safety Wayne Jones went down and needed a stretcher and was carted out on the field.
But a couple plays later, Layne Hatcher found who else but Jonathan Adams for a 17-yard go-ahead touchdown as the Red Wolves took a 35-31 lead over the Wildcats. Adams finished his day with eight catches for 96 yards and three touchdowns.
Meantime, Skylar Thompson missed some throws on the day, overthrowing multiple receivers, and finished 17 for 28 with 259 yards and two touchdowns. The brightest spot for Kansas State was true freshman running back Deuce Vaughn, who rushed for 12 carries, a team-high 47 yards and a touchdown.
For Arkansas State it was their first win over a Power 5 team since 2008, snapping a 21-game losing stream.
Kansas State has two weeks to figure out what went wrong before going on the road to play the Big 12 Champion Oklahoma Sooners on September 26th.
**Want to win a $25 gift card?  Go sign up here and join our conversation! The best poster each week wins a gift card to your favorite establishment!**