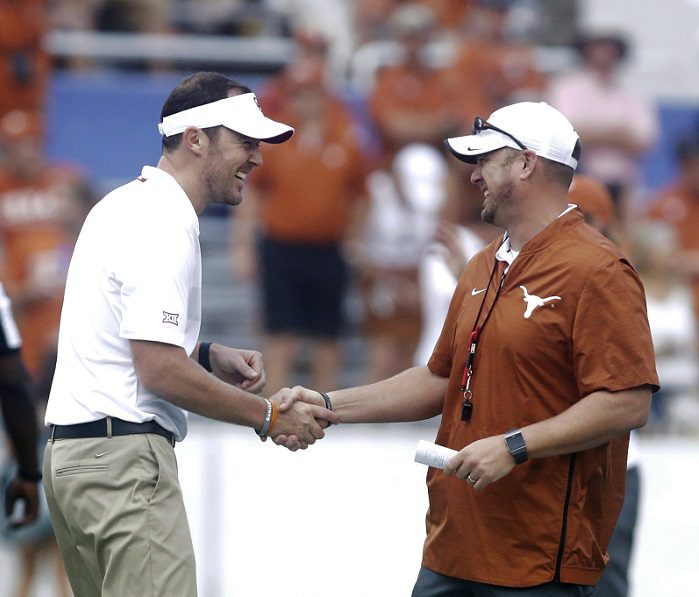 Ah yes, it's that time of year when the Big 12 Football Power Rankings return to Heartland College Sports. A reminder that these can change drastically from week to week. These are not supposed to be a mirror image of a given week's standings. It's based on the previous week's performance and the opponent when compared to the rest of the conference.
So with the 2020 season through Week 1, let's get into this week's Big 12 Power Rankings
1. Oklahoma Sooners (Last Week: 1)
The Sooners were one of the lone bright spots this week in the Big 12 Conference, rolling over Missouri State 48-0, including a 31-0 halftime lead in the first quarter. Spencer Rattler looked like the real deal with throws like the one below that were on an absolute dime. Sure the competition was not very good, but OU could not have done any more (well they could have, but it would not have been classy), and the Sooners deserve to maintain the top spot, no questions asked.
2. Texas Longhorns (Last Week: 3)
Just like OU, Texas could not have had a better outing as it smashed UTEP on Saturday night. The only downside was safety B.J. Foster reportedly quit the team, but then reports were he was back on Sunday? Who knows. But right now that's minor. Point is, Texas' new coordinators Mike Yurcich and Chris Ash coached like they had something to prove, even against lesser competition, and Sam Ehlinger put himself in the early Heisman Trophy conversation.
3. Oklahoma State Cowboys (Last Week: 2)
The Pokes had their Week 1 game postponed due to COVID-19, but they will now take on Tulsa this weekend. Had Texas not thoroughly dominated on Saturday, I might've kept Oklahoma State in the No. 2 slot, but considering how Texas looked, I could not justify that. However a great performance this weekend could definitely change power rankings come next Monday.
4. Baylor Bears (Last Week: 5)
Baylor also had its game postponed due to COVID-19. The Bears did add Houston to their schedule for this upcoming weekend. So Baylor is another team that was not playing this past weekend, but considering how the weekend went for the conference, maybe that wasn't such a bad thing!
5. West Virginia Mountaineers (Last Week: 9)
Some Mountaineers fans will be upset that WVU is not ahead of idle Baylor. But here's why I didn't go there despite the Mountaineers beating up Eastern Kentucky 56-10. I think that idle Baylor who reached a Big 12 Championship Game last year gets the benefit of the doubt over WVU smashing a bad FCS opponent that lost last week to Marshall 59-0. Despite 11 players being suspended before the game, WVU took care of business and had two 100 yard rushers in Leddie Brown and Alec Sinkfield. The Mountaineers did not have one 100-yard rusher in a game last season.
6. TCU Horned Frogs: (Last Week: 6)
Another team who had its game postponed due to COVID-19. But the worst part for TCU might have been the trolling from SMU on Friday night, having some fun with the iron skillet. But outside of that, TCU will have to wait another two weeks to get on the field.
7. Texas Tech Red Raiders (Last Week: 7)
Texas Tech won the game over Houston Baptist. And that's about the nicest thing you can say about the Red Raiders' performance in which they had 13 penalties and allowed 600 yards of offense to a middling FCS program and was one two-point conversion away from having to possibly need overtime to win (or lose) the game. Everything about the game was pretty bad for Texas Tech, but the good news is the stay in the No. 7 hole thanks to the really poor performances by the three teams below.
8. Kansas State Wildcats (Last Week: 8)
21-7 in the second quarter. That was the K-State lead over Arkansas State that diminished and ended up in a 35-31 loss. The offensive line was a work in progress as expected and the defense could not get a stop when it needed to. Plus, Skylar Thompson missed some throws it seems like he would've made last season. The lone bright spot for K-State was true running back Deuce Vaughn, who led the team in rushing and reminded many Wildcats fans of Darren Sproles. Even if that comparison holds up in a minor way, K-State fans will be thrilled.
9. Iowa State Cyclones (Last Week: 4)
This was the first of the Sun Belt losses on the day for the Big 12 Conference. Charlie Kolar was not playing for ISU, but regardless, this offense was lackluster, at best. Brock Purdy finished 16 of 35 for zero touchdowns and an interception. Yes there were some dropped balls, but regardless, ISU did not show up to play on Saturday and that should rest with head coach Matt Campbell. For all his October and November success in Ames which has been unprecedented, is the criticism for slow starts in September allowed yet?
10. Kansas Jayhawks (Last Week: 10)
If not for KU, this slot was reserved for Iowa State. But in typical Kansas fashion, the Jayhawks said, "Hold my beer." KU was down 28-0 in this game to Coastal Carolina. That is a complete embarrassment and the biggest embarrassment of the day in the Big 12, which is saying something. KU's defense is going to get lit up by Big 12 teams this fall and it's still not clear who is going to start at quarterback moving forward, although I would go with Miles Kendrick based on what I saw on Saturday night. No matter what, I have a difficult time seeing this team work it's way out of the No. 10 slot any time soon.
Powered by RedCircle
**Want to win a $25 gift card? Go sign up here and join our conversation! The best poster each week wins a gift card to your favorite establishment!**