The Heart Beat
The Heart Beat (Sept. 14): Rattler, Ehlinger Shine, K-State and Others Tumble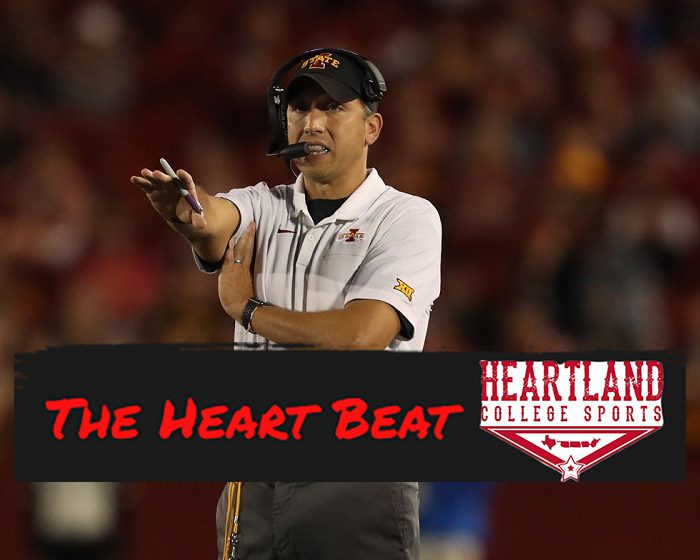 It's time for our links to our favorite bunch of Big 12 content from the previous 24 hours. Think of it as a brunch/lunch links for you to avoid and delay work, plus your boss!
**If there is ever content you'd like us to consider for the following day's Heart Beat, please email me directly: [email protected] or direct message us on Twitter (@Heartland_CS)
Big 12 Football
ESPN.com highlighted two big games on Saturday for the two Big 12 powerhouses, Oklahoma and Texas, as they took a closer look at the season debuts for Spencer Rattler and Sam Ehlinger.
SI.com's Pat Forde writes in his Forde-Yard Dash that the Big 12 Conference got off to a rough start on Saturday. No sh*t, Sherlock!
GoPowerCat's Tim Fitzgerald handed out his grades for Kansas State following the team's loss to Arkansas State. Shocker: Not many good grades!
Here are ten thoughts on Texas Tech's near-loss to FCS "behemoth" Houston Baptist from Staking the Plains.
Here are the bests and worsts from Oklahoma's demolition of Missouri State in Norman.
Two of ESPN's writer have decided to put the Oklahoma State Cowboys in a New Year's Day bowl.
Non-Big 12 Content
The NFL season got underway for its first Sunday of football, and here are CBS Sports' grades from all the action.
Even if the Big Ten ends up playing football, one of Ohio State's best players, and possible Top Ten pick
**If there is ever content you'd like us to consider for the following day's Heart Beat, please email me directly: [email protected] or direct message us on Twitter (@Heartland_CS)