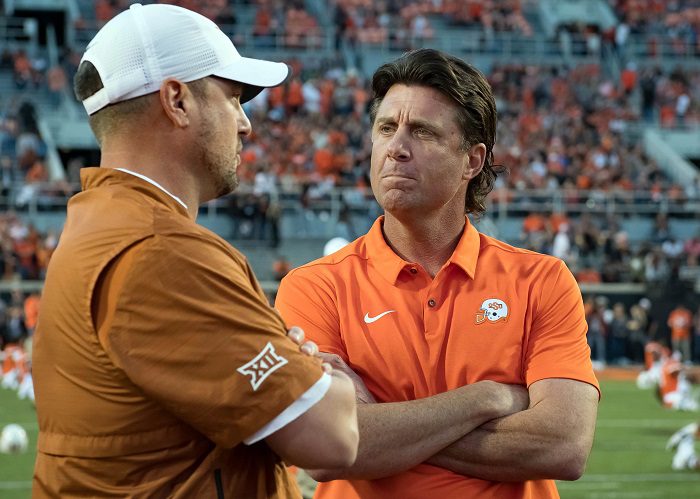 Welcome to the HCS Big 12 mailbag. This mailbag is for all you football junkies out there who root for a Big 12 school who not only have questions about your team, but other teams in the conference as well. So, join me, grab a cold brew or your favorite drink and relax as I answer all your Big 12 questions in my mailbag.
I will pick the best question for each mailbag and label it as my question of the week. The winner gets a free HCS Koozie to keep your beer cold (Unless you like it warm, but that's just plain wrong). I want to thank each one of you who submitted a question this week and for those reading, I am glad you could join me. I am doing this on Monday evening and of course this mailbag wouldn't be nearly as fun without a cold beverage right next to me choice? An ice-cold Shiner Light Blonde. I just got done cutting some grass and what better way to cool off? Cheers!
@spursnsalsa asks: Has there ever been a more drama filled group like the 2018 UT DB class?
Duke: I am sure other schools have had a class that was memorable for leaving. Usually we see it in transition years for coaching as players will leave once the coach that recruiting them gets fired or takes another job. But you have a point here. Texas took in a ton of talented defensive backs in the 2018 class but at some point, not all of them will play as much as they like. I remember when Anthony Cook entered the transfer portal and came back and now apparently on Saturday, backup safety B.J. Foster quit on his team at halftime due to being upset about playing time. At a place like Texas, you must earn your playing time. It is not just given without being earned. And to be quite honest, if I were Tom Herman, I would have let the team voted on whether he should get to come back on the team. Because his teammates are the ones he quit on for selfish reasons. But he is back and let us see how he handles himself.
@istudiedtrees asks: Why are we cursed for liking a team in Ames, Iowa?
Duke: Well things could be a lot worse for your football program. I mean, you could be a Kansas football fan. But listen up, for some unknown reason these Matt Campbell teams start off slow. Whether it is finding a way to lose the Cy-Hawk game or starting slow against Northern Iowa and nearly losing. Now, Louisiana Lafayette is no slouch for a Sun Belt team and Iowa State pulled a no show on offense and special teams. However, there is still some good news. Even with this rip your heart out loss, Iowa State still has nine games left on the schedule and can still make a Big 12 title. That is of course if they decide to wake up on offense and attempt to cover punts and kicks.
@Cyclones_Big12C: Between Iowa State, Kansas, Kansas State and Texas Tech, who will have the best season? Also, which team out of these listed should be the most concerned?
Duke: Well, let us get the easy question out of the way first. Kansas should be worried about going 0-10 this season. I am serious. It looks like a real possibility after watching them get embarrassed by Coastal Carolina at home. AGAIN. Now as for the first part of your question I would still go with Iowa State. Why? Because they have the best defense out of the four teams you listed and even though he did not show it on Saturday, Brock Purdy is the best quarterback out of that group. Hear me out, Iowa State played well on defense. It was two special team's disasters that gave up two crucial scores. As for the offense, it was as bland as white rice because it had zero flavor. I can go on and on about how Saturday went for Iowa State, but my bottom line is this. I still believe Iowa State is much better than Kansas, Kansas State and Texas Tech right now after this weekend. And I don't know if that is saying a whole lot right now considering those other three teams looked just as bad or worse. 
@TheThomasFitch asks: Which blowout win (Texas, Oklahoma and I guess West Virginia) was most impressive? Which team should be more excited watching film this week?
Duke: Welcome to the mailbag Thomas and I hope your show is going well. Now, I try not to take too much stock into cupcake games. I mean, that is why a lot of SEC teams get hyped up right? By playing three cupcake games a year to boost that record up. But out of the three games, I would lean with Oklahoma just because they are breaking in a new quarterback in Spencer Rattler who looked fantastic by the way. He made some difficult throws look effortless and if not for a dropped touchdown pass, he could have been 15 of 17 for 5 touchdowns. Of course, their defense pitching a shutout was good to see as well as they held the Bears to just 135 yards made them go 0 for 11 on third down. 
As for the team who should be most excited to watch film should probably be West Virginia. I know Eastern Kentucky is terrible, but I think the Mountaineers made some improvements on Saturday despite being down 11 players due to suspensions. They ran the ball well and racked up 329 rushing yards. That is a miracle because last season they averaged under 80 rushing yards a game and had the third worst rushing offense in the country in 2019. Appreciate the question Thomas and whenever things get back to normal, a visit to sixth street for a drink is needed!
@Big12Clone asks: When are you going on vacation?
Duke: Are you wanting to get rid of me already? The season just started for crying out loud. Or are you just trying to get rid of me because you think I am some kind of curse for your Cyclones? All jokes aside, I am taking some time off in November. I was originally planning on going on a cruise for my honeymoon but due to COVID-19, that ship sailed. But I am not sure just yet. Maybe a beach or maybe somewhere up north to see some snow. Either way, do not tell my wife that I will still be watching and writing about football some during our trip.
@CalebCannon4 asks: Who has the best chance of competing for a conference championship that does not include Oklahoma, Oklahoma State or Texas? Also, what is your way too early pick to win the Red River Shootout?
Duke: Oklahoma, Oklahoma State and Texas were my top three teams this year in the Big 12. And if you want me to take those picks away, I had Iowa State as my number four team. Even with the abysmal loss to Louisiana Lafayette, I am sticking with the Cyclones. To me, Kansas, Kansas State and Texas Tech did not look any better and I have no idea how TCU will look without starting quarterback Max Duggan for most of the season. As for Baylor and West Virginia, I have no clue what they will do in conference play, but the Mountaineers are still rebuilding, and Baylor lost of ton of key guys from their magical 2019 season.
I mentioned this earlier, but I still like Iowa State's defense. They truly only gave up 17 points as they other 14 came from special team's disasters. But the offense must kick it into gear and get some creativity. Brock Purdy looked rusty and his offensive line looked averaged at best. Not to mention, his weapons on the outside did not look particularly good either due to dropped passes and a lack of separation. I doubt that all gets magically fixed when tight end Charlie Kolar comes back but can this offense play any worse than it did on Saturday? Maybe but I would be surprised if the Cyclones have another performance like that.
As for the Red River Shootout, I am still sticking with Oklahoma. But at this point, it is a coinflip game for me and by the time that game rolls around, a lot can change including my pick. Also, congrats on being the question of the week!
Powered by RedCircle
**Want to win a $25 gift card?  Go sign up here and join our conversation! The best poster each week wins a gift card to your favorite establishment!**