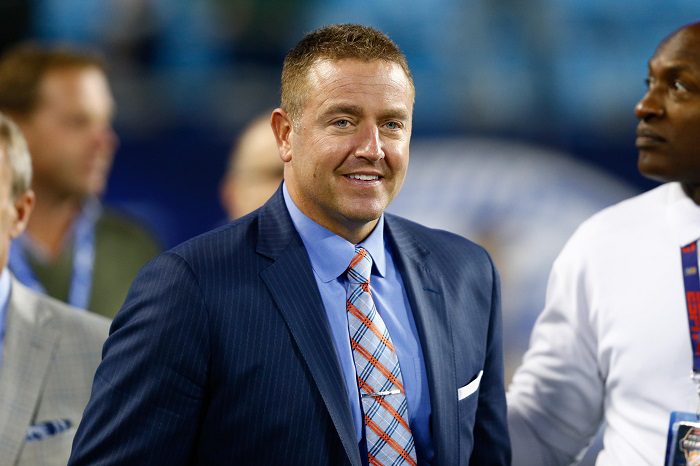 College Football is back baby! Of course it's not all the way back, in fact after two weeks of viewing it's only a ghost of what it was in 2019.
I'm not a soapbox guy, never have been. In fact I'm so politically asexual I'm a sponge. Meaning, I don't care about the mask debate at all. A simple thing that had no business being politicized in the first place, but I digress.
No, my issue is the constant reminder that FOX, ESPN, CBS and broadcasting affiliates down the line feel they need to give us that, "WE ARE IN A PANDEMIC!"
Did you know we were?
Did you pick up on a few of the weird changes in your daily life since March?
I do.
I picked up on it in April when I was furloughed from my steady and prosperous job for two weeks.
I remember something about not being able to see my Grandma for her 89th birthday.
Oh and thanks ESPN and FOX, as I also had no idea things had changed as I was sitting watching football in my living room alone, while stadiums are without fans and sideline reporters are in masks!
To my point, it would be a nice break from the daily grind of living through nearly an entire year of COVID-19 to have an escape. Even if that escape was pretend and unfounded, we need it!
College football could have given this to many of us. They could have just covered rivalries and highlighted football teams for a Saturday and given us all a well deserved break.
Hell, I would have taken a painful three-part biography of Canadian Football over the fifteen "electronic whistle" references given during a half of football.
But they just couldn't.
The games have an odd feeling to them, even if your team is getting Rick-rolled by a Sun Belt team. It's a different feeling that steals some of the joy that we all love about college football. Maybe it's my fault for believing we could have a "normal feel" during a college football game, even amidst COVID-19.
My gripe is simply with wanting and yearning for something normal to let us breathe easy for just one day in our hectic weeks.
And in full disclosure, I'm well aware many have had it much worse than me. I know, these sentiments make me sound as if I wrote this article with crayons, after a busy night of be-dazzling my stuffed unicorn collection.
But sometimes the country needs a good dose of pretend. Doesn't it?
College Football has failed to understand this in its first few weeks.
I hope moving forward we will see a transition from sportscasters and announcers reminding us of COVID-19's utter suckiness, to why each Saturday we live and tune in for kickoffs.
Give us back our one day.
Powered by RedCircle
**Want to win a $25 gift card?  Go sign up here and join our conversation! The best poster each week wins a gift card to your favorite establishment!**