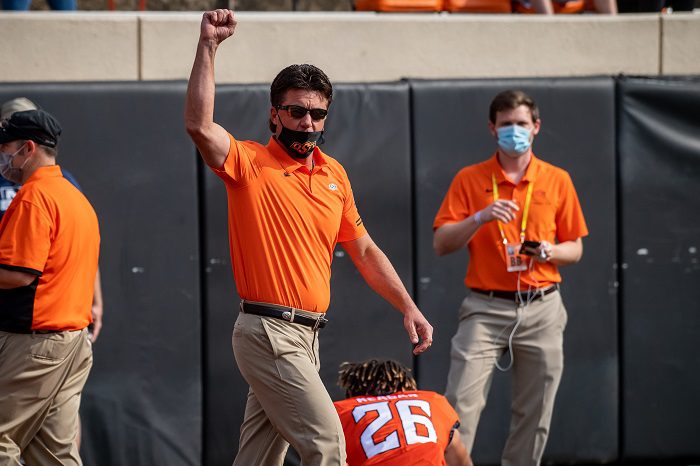 96 total yards of offense. Injuries to star players. And a halftime deficit.
That was the first 30 minutes of football for the Oklahoma State Cowboys' season, which could not have gotten off to a worse start. The Cowboys opened their scoring in the opening drive with a field goal, but that was followed by a fumble, punt, punt, fumble to end the half. Oh, and it included Spencer Sanders leaving with a lower body injury that would not see him return to the game.
After 30 minutes, the Oklahoma State Cowboys were trailing the Tulsa Golden Hurricane 7-3. Would the Pokes be the latest Big 12 team to get embarrassed to start the season, joining Iowa State, Kansas State and Kansas from last week?
It sure looked that way in the third quarter, as the Pokes went punt, punt and then an interception inside the Tulsa 30-yard line, as the rough afternoon continued for JUCO back up QB Ethan Bullock.
To Oklahoma State's credit, the defense continued to hang tough against a Tulsa offense that was welcoming back a lot of experience and a veteran QB in Zach Smith.
And finally, Mike Gundy made the move many fans were longing for: four-star true freshman QB Shane Illingworth.
Illingworth entered the game late in the third quarter and on his first play found Tylan Wallace down the right sideline for a jump ball and 24-yard gain. For a moment, it looked like we were watching Mason Rudolph.
That led to a six-play, 81-yard drive that ended with Chuba Hubbard's three-yard touchdown as Oklahoma State scored its first touchdown of the game and went in front 10-7.
Tulsa then put together it's best drive of the half, but once again, OSU's defense stood strong inside its own 10-yard line and then freshman kicker Tyler Tipton missed a 26-yard field goal.
The Pokes had full momentum and while a big LD Brown touchdown run was taken off the board due to a holding penalty by Oklahoma State center Ry Schneider, the Cowboys added a 40-yard field goal by Alex Hale to go up 13-7.
The Cowboys defense would handle business, as it did all afternoon as the Golden Hurricane were forced into a turnover on downs deep in their own territory. The Cowboys would tack on a field goal and finish off an ugly, but effective, 16-7 win.
Chuba Hubbard finished with 27 carries for 93 yards and a touchdown. Illingworth completed 4 of 5 passes for 74 yards. Tylan Wallace led the team in receiving with 4 catches for 94 yards.
Granted there are real concerns for the Cowboys going forward as this is a team looking to reach a Big 12 Championship Game, and now there are some analysts, like ESPN's Desmond Howard, calling them College Football Playoff contenders.
The offensive line needs a lot of work, Kasey Dunn was questionable at times with his play calling for his first game as offensive coordinator, and of course the health of Spencer Sanders should be a concern.
But at least the Pokes can walk out with a win and feel like they have a back up QB they can rely on in Shane Illingworth.
The Cowboys will host West Virginia to open Big 12 play next Saturday at 2:30 CST.
**Want to win a $25 gift card?  Go sign up here and join our conversation! The best poster each week wins a gift card to your favorite establishment!**