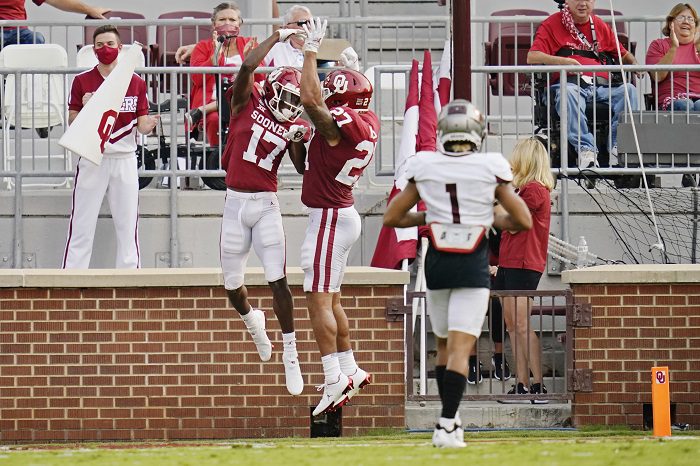 The Oklahoma Sooners have a lot of shiny toys on their offense. Jadon Haselwood, Trejan Bridges and Theo Wease were all five-star recruits and are certain to make an impact for OU. Oklahoma also has a very good wide receiver in Charleston Rambo, that some peg as a potential first-round pick in the NFL Draft. If he can achieve that accomplishment, he would be the third-straight Sooner to do it.
The Sooners have a seemingly endless supply of talented running backs, even with their room continuing to lose guys to contact tracing, suspensions, opt out, transfers and more. Seth McGowan looks like the real deal, and a kid that was way undervalued by the evaluators. 
However, there is one player who is not as shiny, but may be better than all of them: true freshman wide out Marvin Mims. Mims came to Oklahoma ranked the 29th wide receiver in the 2020 247 composite. Mims is one of the most productive wide receivers in high school football history, not just in Texas, but nationally. Marvin set the national record for receiving yards during his senior year with 2,626 he also added 31 TDs and a 22.5-yard average.

Ironically, this is not the only obvious gaffe made by these evaluators when it comes to Oklahoma receivers. In 2017, these same guys evaluated Ceedee Lamb as the 24th-best receiver, and Charleston Rambo as the 27th-best receiver. Anyone who followed Oklahoma football, Texas high school football or recruiting more than just casually can still be heard laughing as these words are typed up. 
Marvin Mims' comparison according to 247 evaluator Gabe Brooks is Houston wide receiver Marquez Stevenson. Stevenson is a good football player. He is a speedster and maybe someone will take a late-round flyer on the young man in this upcoming NFL draft. This comparison is, however, not even close for Marvin Mims.
Mims was rated lower because he did not have elite speed, but checked every other box, the opposite problem of Stevenson. Mims got crushed for only running a 4.67 at a camp. But Mims' high school tape clearly showed his speed was much better than he tested and it didn't stop offers from pouring in. Ohio State, Texas A&M, and Notre Dame, who along with Oklahoma, have tremendous scouting, and didn't shy away. 
Riley spoke about Mims' speed during his press conference this week, saying, "Yeah, it's not 4.75. I can 100% confirm that. No, he can run. He's really fast. I mean, he's easily one of the fastest players on our team. So, where that is exactly on a clock with the abnormal offseason, that's tough for me to say. But he's in the fast world. He's in the 4.4 and under world."
Riley may not want to say, but according to reports, Mims ran a low 4.4 this spring, (Oklahoma laser tests their newcomers every spring), and with the offseason has likely progressed beyond that.  A source within the program compared Mims to Ryan Broyles, arguably the best receiver in OU history. "He's Ryan Broyles with elite speed." Broyles was once the leader for career receiving yards in NCAA history and was second in receptions.
Oklahoma got an absolute gem in Marvin Mims. A gem that will make evaluators wish their reports were written in pencil. Its one thing to get a few wrong from time to time, its another to miss a guy balling in plain sight. My advice for 247 and other scouting services: if a kid breaks a national record playing 6A Texas high school football, he's probably legit. 
**Want to win a $25 gift card?  Go sign up here and join our conversation! The best poster each week wins a gift card to your favorite establishment!**