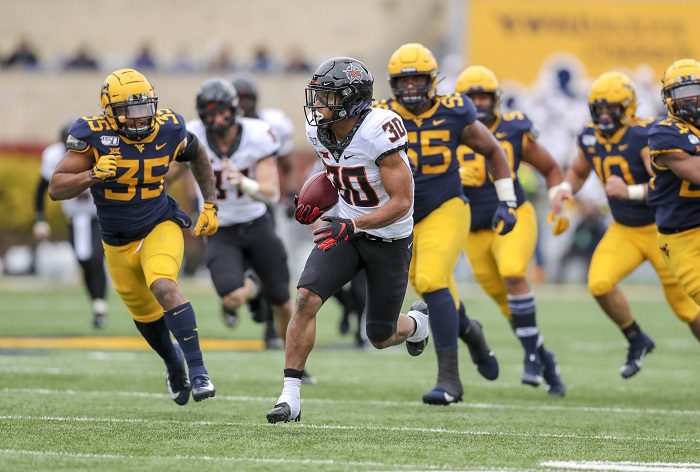 Here is everything you need to know about the upcoming Big 12 game in our Oklahoma State vs. West Virginia preview and prediction.
Game Info
2:30 p.m. September 26, Boone Pickens Stadium, Stillwater, Oklahoma
TV: ESPN (Bob Wischusen, Dan Orlovsky and Kris Budden)
Radio: Cowboy Radio Network; Mountaineer Sports Network
Spread: OSU (-8.5)
Fun Fact: OSU owns a 7-4 all-time series advantage, including a 3-2 advantage in games played in Stillwater. OSU has won five straight over the Mountaineers, and won both of the two played in Stillwater. A win Saturday would extend the longest win streak for either team in the series.
Key Players
Oklahoma State
The Entire Offensive Line
Thought to be stronger than in recent years before the season started, the retirement of starting guard Dylan Galloway and the dismissal for violation of team rules of starting tackle Bryce Bray along with another lineman made this unit a huge question mark. Tulsa is a team that had barely practiced due to the pandemic but they managed 14 tackles behind the line of scrimmage, totaled six sacks, held Chuba Hubbard under 100 yards, and dinged up Spencer Sanders. West Virginia is a far far better team up front than Tulsa. The Cowboy line did play better as the game went along but if they can't plug the leaks it's going to be a long day for the offense.
QB Spencer Sanders? Shane Illingworth?
Mike Gundy said Sanders will be in a walking boot until Tuesday and then they will see how he is. There's no guarantee he's a go for Saturday. If he is able to play but is limited that's still a problem for the Pokes because the threat of his legs is what makes him dangerous. He is not a pocket passer. But Illingworth is. He's also a true freshmen who didn't practice for most of the two weeks leading up to the Tulsa game due to COVID-related contact tracing issues. Once he came Illingworth complete 4/5 passes for 74 yards but the Mountaineers aren't going to let him just toss deep jump balls to Tylan Wallace like he did again the Golden Hurricane. How much of the offense can he possibly know and run efficiently with no spring ball and limited reps? Whichever QB plays, Sanders or Illingworth or both, they have to be able to get the passing game going to take the pressure off of the running game so their workhorse Hubbard can do his damage.
West Virginia
QB Jarret Doege
Doege is a gunslinger. He has a big arm, is accurate, can throw on the run, and isn't afraid to make a tough pass. Against Eastern Kentucky he threw for 228 and three touchdowns on just 19/25 passing and the 56-10 whipping was on. Eastern Kentucky is terrible, yes but it's obvious that the Mountaineer offense is clicking early better than it did last season.
RBs Leddie Brown and Alec Sinkfield
Combined this duo went for 246 yards and four tds on 25 carries. While the carrels were an uneven 10 to 15 respectively the yards and tds were split down the middle: 123 yards and 2 tds each. Offensive balance was missing from West Virginia last year but if these two can continue to pile up yards it will give Doege a chance to be even more lethal through the air.
DL Dante Stills
I can't remember a time before there was a Stills wrecking havoc for West Virginia's defense. Dante Stills has to be smiling ear to ear watching film this week as Tulsa used nothing but strength and simple blitzes to manhandle the Cowboy's offensive line. Look for him and his defensive line teammates to make a big impact on this game early.
Key Storylines
Oklahoma State
Are the Cowboys as bad as they looked against Tulsa? The Golden Hurricane isn't a giant pushover and it probably the best team a Big 12 School has played a game against this season but there's a reason OSu was favored by three scores. But yet it almost ended in disaster. The offensive line looked horrible, the offense lacked rhythm and creativity, and if not for Tylan wallace being The Jump-Ball King not even the now-local-hero Shane Illingworth could have saved them. The defense looked as good as advertised, hold Tulsa to 0-12 on third downs and limiting them to under 300 yards, but that's not going to be the case against most Big 12 teams. The offense has to find a way to score A LOT more the 16 points or the Pokes will rack up L after L in what was supposed to be a big year.
West Virginia
Are the Mountaineers as good as looked against Eastern Kentucky? The 'Neers has their way with the hapless Colonels like they were supposed to but so did Marshall the week before. The Thundering Hern actually scored more points (59) and pitched the shutout defensively. Now I don't put much in comparative scores and in no way do I think Marshall would be favored in a game versus West Virginia right now but the truth is the Mountaineers have played no one. There is something to be said about looking good playing no one though, and they did look good. Can they continue to look like a behemoth against the step up in defensive they face this week?
Prediction
Oklahoma State: 28 West Virginia: 24
I went back and forth on this but in the end I just couldn't see Oklahoma State playing as poorly as they did last week. Gundy coached teams have always found ways to make the offense work with subpar lineplay. They've done it for the better part of a decade now. Even if Spencer Sanders can't go they should be able to formulate enough of a passing game with Illingworth and Wallace and Dillion Stoner to keep the Mountaineer defense from selling out to stop Chuba Hubbard and L.D. Brown. Expect a lot of motion and smokescreen to creatively hide the offensive lines woes. The Cowboy defense seems stout and should be able to slow down Jarret Doege and Company just enough to eek out the win. I will add this caveat though: if the Cowboy offense is as woeful as it was in week one the Mountaineers will blow the Cowboys' doors off before halftime and the heat on Gundy's seat will crank up to 11.
**Want to win a $25 gift card? Go sign up here and join our conversation! The best poster each week wins a gift card to your favorite establishment!**