The Heart Beat
The Heart Beat (Sept. 25): Iowa State Improvements, Picks, Previews and Predictions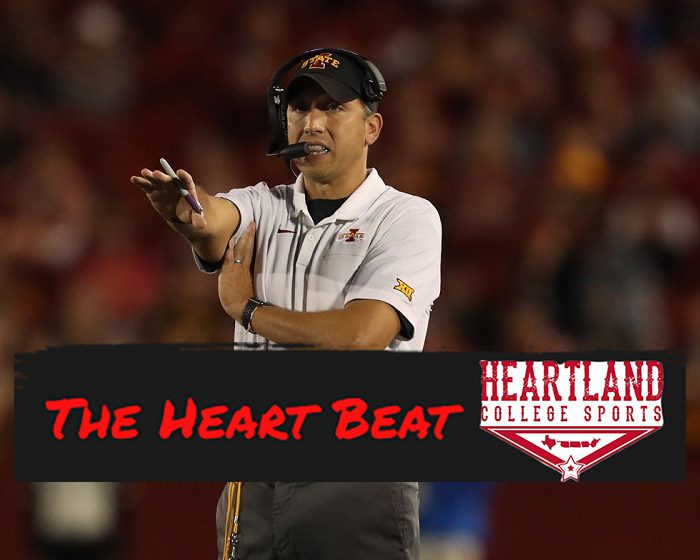 It's time for our links to our favorite bunch of Big 12 content from the previous 24 hours. Think of it as a brunch/lunch links for you to avoid and delay work, plus your boss!
**If there is ever content you'd like us to consider for the following day's Heart Beat, please email me directly: [email protected] or direct message us on Twitter (@Heartland_CS)
Big 12 Football
Chris Williams at Cyclone Fanatic talks about the things he wants to see from the Cyclones this weekend against TCU.
The Baylor Bears are anxious to finally hit the field on Saturday against the Kansas Jayhawks.
Here are picks from Pistols Firing Blog on this weekend's OSU-WVU game.
Could Kansas State's run game bring a defensive tweak against Oklahoma?
Here is the Dallas Morning News' prediction for Texas vs. Texas Tech.
Non-Big 12 Football Content
ESPN lists the 25 most important players in the College Football Playoff chase.
Here are CBS Sports' expert predictions for the SEC football season.
How Hurricane Laura had a massive affect on college football programs, most notably McNeese State.
Bleacher Report went through some of the biggest questions ahead of the college football season hitting conference play for many conferences this weekend.
**If there is ever content you'd like us to consider for the following day's Heart Beat, please email me directly: [email protected]orts.com or direct message us on Twitter (@Heartland_CS)