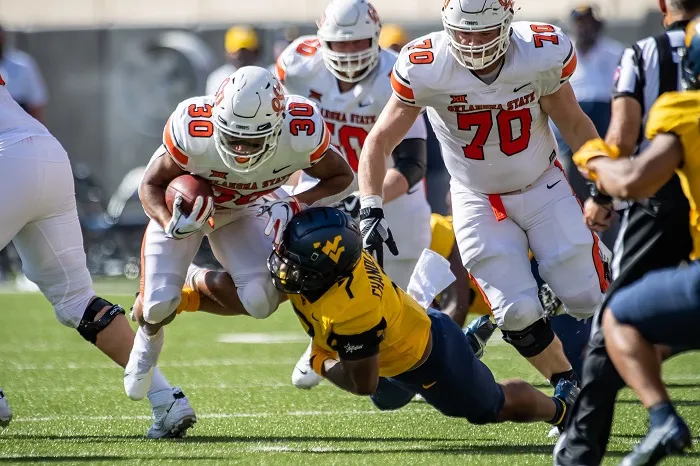 With just over one minute left in the game and Oklahoma State trying to seal the win for the Cowboys over the West Virginia Mountaineers, Chuba Hubbard bounced outside right and ran 23 yards for the score as the Cowboys finished off the Mountaineers with a 27-13 win.
It was an appropriate way for this one to end in Stillwater as it was the Cowboys ground game that propelled them to a victory from start to finish. Oh, that and some great defense by the Pokes.
This game started off slowly with four-straight punts combined between both teams. But early in the second quarter Mike Gundy's team got on the board first as LD Brown took the third play from scrimmage 66 yards to the house for a 7-0 lead.
And then on the next drive on the 8th play of the drive for the Mountaineers, Oklahoma State's defense showed its stripes when a strip sack of QB Jarret Doege led to Tyren Irby returning a fumble 56 yards for a touchdown as Oklahoma State jumped out to a 14-0 lead.
Another field goal followed for the Cowboys after a fumble by the Mountaineers. It was the second-straight fumble by WVU inside the Oklahoma State 30-yard line, which proved to be the difference.
WVU did respond with a 70-yard score from Doege to Winston Wright Jr. and Oklahoma State put up a field goal before halftime for a 20-7 lead.
The third quarter featured just a field goal by the Mountaineers to cut it to a 10-point game. The Mountaineers did cut it to a one-score game in the fourth quarter with another field goal that capped off an 11-play, 57-yard drive.
But the Pokes saved their most impressive drive for when it mattered most with a 15-play, 80-yard drive led by true freshman QB Shane Illingworth who was getting the first start of his career, which ended with the Hubbard TD run to finish off the 27-13 win.
Oklahoma State's defense continues to carry this team in the early part of the season, helping OSU win the turnover battle 2-1, while keeping the Mountaineers to a total of 352 yards. WVU had just 67 rushing yards on 42 attempts for a 1.6 yards per carry average.
Illingworth went 15 of 21 for 139 yards and a pick, while his counterpart Doege finished 20-37 for 285 yards and one TD. The Mountaineers were also hurt by penalties, racking up 12 for 106 yards.
West Virginia goes back to Morgantown to welcome in the Baylor Bears, while Oklahoma State travels to face the Kansas Jayhawks next week.