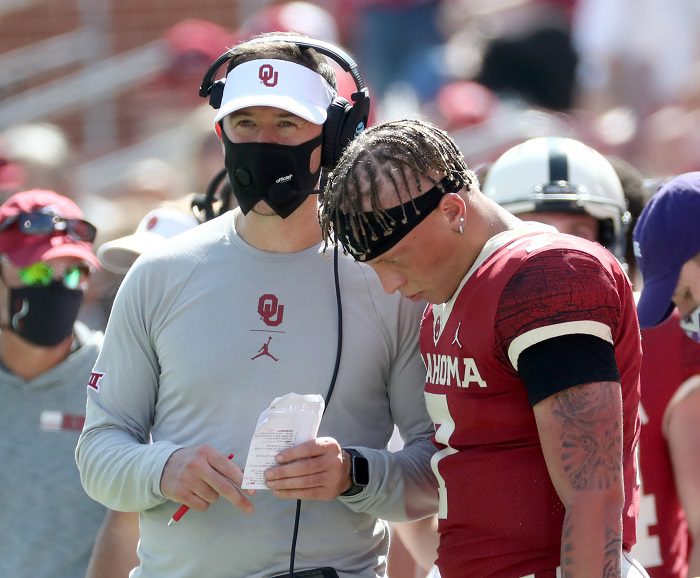 Where do you want to start? Is it with Oklahoma blowing a 21-point second half lead against a team that lost to Arkansas State in Week 1? Is it Texas Tech, who statistically had a 99.8% chance to win the game against Texas with three minutes left, losing in overtime? Or do you want to look at Iowa State and TCU, two defensive stalwarts, combining for over 70 points? Maybe it's Oklahoma State winning games thanks to its… defense and running attack?
Pick any of them, and it continues the theme that has been an insane 2020 in real life, and that is apparently filtering itself into Big 12 football, which was already defined by is strangeness and unpredictability going back 25 years.
But just two games into the season, this is anyone's conference. Before the season I thought that there could be three teams finishing with a 7-2 conference record, and that tiebreakers would determine who would get to play in the Big 12 Championship Game. That prediction isn't looking too shabby right now.
The Oklahoma Sooners have some work to do on both sides of the ball to run the table from here on out. The defense isn't creating takeaways like DC Alex Grinch has put such a focus on, while Spencer Rattler was the first OU QB to throw three interceptions in a game since 2014. I don't believe Rattler was the reason OU lost, but his freshman jitters showed up late when K-State was storming back in the game. However counting out the Sooners from a College Football Playoff appearance would be foolish considering they've had these early-season hiccups before and have still run the table to the Playoff. But of course this year could be different.
The Texas Longhorns came back in improbable fashion on Saturday, and while still being ranked in the Top 10 is nice, there are serious concerns, most notably on defense for Tom Herman and DC Chris Ash. Meantime, Oklahoma State is 2-0, but who would've thought that the Pokes would be powered by its defense and running game in the Mike Gundy era? Of the other contenders, Baylor looked strong, but it came against Kansas. And Iowa State bounced back to beat TCU, but giving up 30+ to a Horned Frogs team that played two QBs and has been offensively inept for a couple of seasons is tough for Matt Campbell's team to swallow.
College Football Playoff Obstacles
There are obstacles here for the Big 12 Conference as well, such as having its best non-conference win be… UTEP (vs. Texas)? So even if the conference plays its usual full round robin conference schedule and pits No. 1 vs. No. 2 in the Conference Championship Game, which no other conference does, the haters will say the Big 12 isn't that strong anyway and the non-conference will be the evidence they use to prove it.
In hindsight, the Big 12 should've never played a non-conference, but that is neither here nor there.
As ESPN noted on Sunday, "If the Big 12 plays itself out of the conversation, it opens the door for two SEC teams (again), two Big Ten teams (maybe Ohio State and Penn State?) two ACC teams (Notre Dame and Clemson if they split?) or … a 7-0 Pac-12 champ."
But should a 10-1 OU lose out on the playoff to a 7-0 Pac-12 champ? Heck, even a 9-2 OU as Big 12 champ losing out to a 7-0 Pac-12 team?
These are reasonable questions that the committee will have to figure out with conferences playing completely different schedules.
But for the Big 12 Conference, in what was already expected to be a topsy-turvy year in the conference and across college football, this conference continues to give us thrilling Saturdays week after week, and there is no way that's changing this fall. In fact, it looks like it's only getting more thrilling.
Powered by RedCircle
**Want to win a $25 gift card?  Go sign up here and join our conversation! The best poster each week wins a gift card to your favorite establishment!**