Big 12 Sports Articles
Big 12 Football Mailbag: Brocktober Coming, Texas Secondary, Oklahoma State Offensive Woes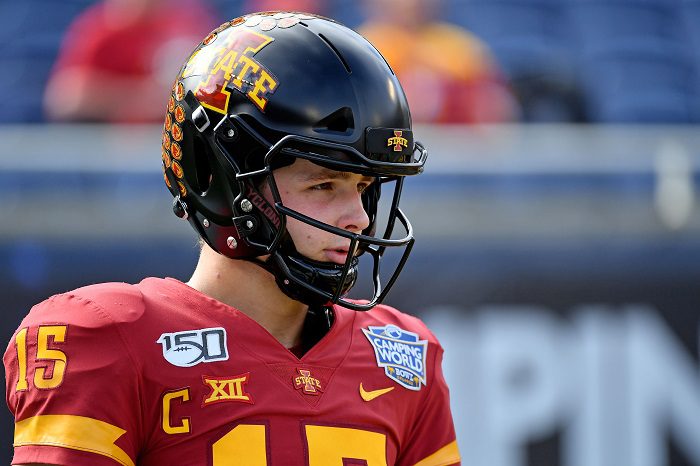 Welcome to the HCS Big 12 mailbag. This mailbag is for all you football junkies out there who root for a Big 12 school who not only have questions about your team, but other teams in the conference as well. So, join me, grab a cold brew or your favorite drink and relax as I answer all your Big 12 questions in my mailbag.
I will pick the best question for each mailbag and label it as my question of the week. The winner gets a free HCS Koozie to keep your beer cold (Unless you like it warm, but that's just plain wrong). I want to thank each one of you who submitted a question this week and for those reading, I am glad you could join me. I am doing this on Monday evening and of course this mailbag wouldn't be nearly as fun without a cold beverage right next to me choice? An ice-cold Busch Beer. No, not a Busch light. A regular classic Busch Beer. A tall boy of course. Cheers!
@aaronIwall asks: How many loses does the eventual conference champion have?
Duke: With the way things have been going so far in this conference, I would not be surprised to see a two loss Big 12 champion. However, I still think the three best teams in this conference are Texas, Oklahoma, and Oklahoma State in whichever order you want them in. Obviously, Texas has some major issues and Oklahoma had a no show second half against Kansas State and of course, Oklahoma State is without their starting quarterback Spencer Sanders. Oklahoma has a loss while Texas and Oklahoma State do not. After all these teams mix up, I expect Oklahoma to shake off their one Big 12 loss per year and move on. As for Texas and Oklahoma State, I think one of those teams will meet a one loss Sooner team while they sit at 8-2. And I picked Oklahoma to win the Big 12 this season so I will say the Sooners finish 9-1 as the 2020 Big 12 champion. But I will say, I am not confident with this pick as of right now.
@spursnsalsa asks: Why is the Texas secondary still so bad?
Duke: As talented as I think the secondary for the Longhorns is, they were completely mismatched this past weekend against Texas Tech's wide receivers. On the TV broadcast they mentioned that Texas averaged around six foot height wise in that secondary while Texas Tech's top targets such at T.J. Vasher (6'6) and Erik Ezukanma (6'3) are mismatches for most secondaries when it comes to height alone. Of course, the speedy KeSean Carter is a mismatch for most defenses as well. Texas Tech has weapons at wide receiver and will give some teams fits in the passing game. With that said, the biggest concern I had was the tackling. It was poor and the effort was not there. Could it get much worse than what we saw Saturday? Who knows but if the tackling does not improve, it will not matter because they will be getting torched for yards after the catch.
@Batch40oz asks: When is the last time Oklahoma lost two straight conference games?
Duke: There are not many years that Oklahoma loses two conference games in a season let alone in back to back weeks. 2014 was the last mediocre year the Sooners had as they finished 8-5 overall with a 5-4 Big 12 record. Ah, the Trevor Knight days but they did not lose back to back conference games that year, surprisingly. I had to go all the way back to 1998 which was just one season before Bob Stoops was hired and John Blake (who sadly passed away this year) was the head coach. Oklahoma finished with a 5-6 overall record in 1998 and a 3-5 record in conference play that year. Believe it or not, that season they lost four straight conference games against Colorado, Texas, Missouri, and Oklahoma State.
@woody5211 asks: Could this be another Brocktober?
Duke: Technically Matt Campbell started this whole October win streak. Since 2017, Iowa State is 10-1 in the month of October and their lone loss came against Oklahoma State last season. But yes, October has been a great month for the Cyclones over the last few years. The problem is that we just have not seen enough to this point to make me believe that Iowa State will go 4-0 this October against teams like Oklahoma, Texas Tech, Oklahoma State and Kansas. Well, of course Kansas is an automatic win but if you put a gun to my head now, I would say that Iowa State best case goes 3-1 and worst case goes 2-2. But to be fair, I have no idea how Oklahoma will respond this weekend and if Iowa State stuns the Sooners, then 4-0 this month is a serious possibility.
@jsmith27182 asks: If Mike Gundy gets the offense going, will Oklahoma State win the Big 12?
Duke: I will start by saying this, Oklahoma State has a Big 12 championship caliber defense. Their defense is salty and has some good players at every level of their defense from Trace Ford to Malcolm Rodriguez to their secondary with Rodarius Williams, Tre Sterling and Kolby Harvell-Peel. With that said, the offense does need get in gear because if they do, I think they would be the best team in the Big 12. There is no question that talent that they have on offense with their playmakers. Chuba Hubbard and LD Brown look like the best rushing duo while Tylan Wallace is probably the best wide receiver in the Big 12. However, with Spencer Sanders out and the shaky offensive line play, that could be devasting down the road. When will Spencer Sanders return? And will the offensive line get better each week? If Sanders comes back healthy soon then I have some faith because true freshman Shane Illingworth is not going to win a Big 12 title this season at quarterback.
**Want to win a $25 gift card?  Go sign up here and join our conversation! The best poster each week wins a gift card to your favorite establishment!**