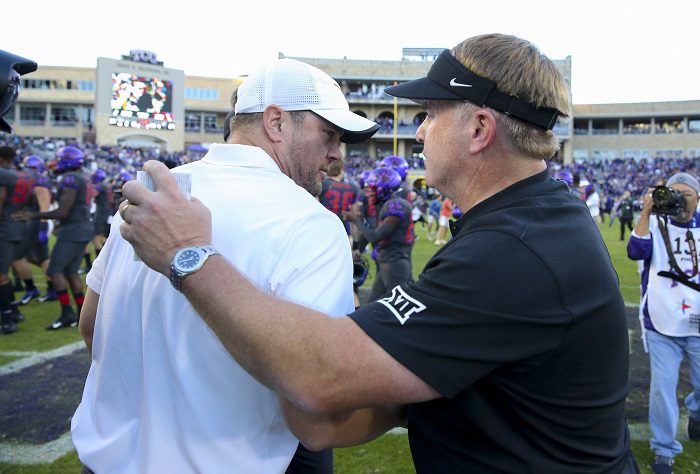 There are bad takes, and then there's Tom Herman's take on Gary Patterson.
The Texas Longhorns head coach hasn't had his way against the Horned Frogs since getting the job in Austin. As we noted in our Texas vs. TCU preview and prediction this week, the Longhorns have lost two of three to TCU under Herman and have dropped five of their last six games to TCU.
In 2017, TCU won the game 24-7, then Texas won 31-16 in 2018, before TCU returned the favor with a 37-27 victory last fall.
Gary Patterson and the Horned Frogs have been stuck in a couple of mediocre seasons after reaching the Big 12 Title Game in 2017, but still, Patterson has done a helluva job building this from a Group of 5 program to a legitimate Power 5 contender.
But apparently that doesn't impress Texas head coach Tom Herman, who when asked about playing against Patterson said, and I'm giving you the full quote for context, "As far as going against Coach Patterson's defense, I don't know that I was tremendously frustrated two years ago. I think the final score was 31-16. You always want to score more points and hold them to less points. It gets frustrating sometimes because Gary, to his credit and a ton of respect for him, doesn't do a whole lot. What he does is he's got his players to play really, really hard. He puts them in great position. They're extremely fundamentally sound. You have this fall sense of maybe where they're going to be, lined up, blitzing from, and rushing from, and all that stuff — that battle is not one that's waged a whole lot against coach Patterson's defenses. The battle is can we play more fundamentally sound than them? Can we play harder than them? There are going to be some schematic things that you want to take advantage of, and it's a matter of making those opportunities count and not having long foul balls when you schemed up a shot against a certain coverage. … I know where they're going to be and we know what they're going to do, they just do it so well that's extremely challenging."
This has got to be Tom Herman's worst take of all time and definitely is, hands down, the worst take by a college football coach thus far in 2020.
So the argument by Herman is that Patterson doesn't do anything really fancy, necessarily, but he just does the "fundamentals" well. OK, well if it's so effective that it's led TCU to have one of the best defenses in the Big 12 year in, year out, then why doesn't everyone just do it?
To quote Tom Herman, "he doesn't do a whole lot." So coach, why don't you just not "do a whole lot" and get your guys to "play really hard", "put them in a great position" and get them to play "fundamentally sound"?
Your defense, under Chris Ash, since you had to fire Todd Orlando, just gave up 56 points to Texas Tech on Saturday, and without a miracle would've lost the game.
It would seem to me that this would be an easy fix for a program that, despite several four and five-star recruits, hasn't had a top-notch Big 12 defense in going on two or three years.
While Herman did add in his comments, "to his credit and a ton of respect for him", everything else around that line was disrespectful. Maybe the words just came out wrong for Tom Herman. That happens to all of us. But regardless, this is one of those comments that is just going to fire up Gary Patterson and his guys even more when they take on Texas this weekend.
And that should be the last thing Tom Herman and the Longhorns want considering they struggle enough as is against TCU.
Take TCU and the points. Hell, take TCU outright on Saturday. I explain why in our Texas vs. TCU preview.
**Want to win a $25 gift card?  Go sign up here and join our conversation! The best poster each week wins a gift card to your favorite establishment!**