Baylor Bears
West Virginia vs. Baylor: Preview and Prediction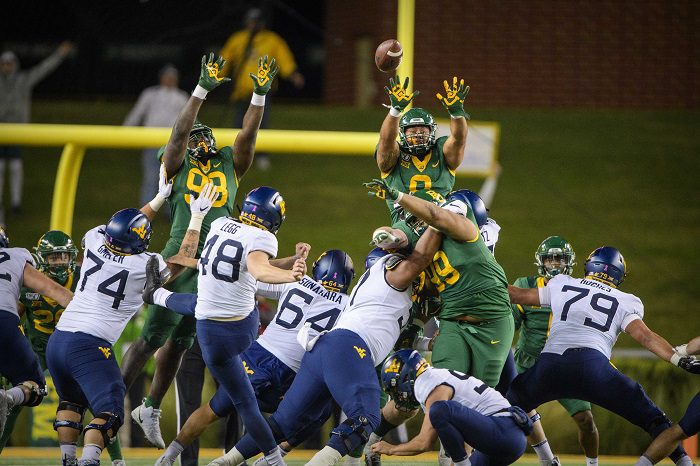 Here is everything you need to know as the Baylor Bears take on the West Virginia Mountaineers in Big 12 action.
Game Info
12 p.m. Eastern Time, Saturday, Oct. 3, 2020, Milam Puskar Stadium, Morgantown, WV
Records: Baylor (1-0, 1-0 Big 12); West Virginia (1-1, 0-1)
TV: ABC (Bob Wischusen, Dan Orlovsky, Rocky Boiman)
Radio: Baylor IMG Sports Network / ESPN Central Texas; XM 387, Internet 977; Mountaineer Sports Network, Sirius Ch. 136, XM Ch. 199.
Key players
Baylor
RB Trestan Ebner. Ebner was the Big 12 Special Teams Player of the Week after the Bears' 47-14 win over the Kansas Jayhawks to open Big 12 play. Why? He did something that no Big 12 player had ever done, and that only five other Power 5 conference players had done since 1996. Ebner scored three different types of touchdowns against the Jayhawks — rushing (one), receiving (one) and kickoff return (two) and amassed 272 all-purpose yards in the victory. His 272 all-purpose yards is third most in a single game in Baylor history. His four touchdowns nearly matched his 2019 season output of five touchdowns. Ebner is considered a co-starter with John Lovett on the Bears' depth chart. But if he keeps playing like this he'll get as many reps as he wants.
WR R.J. Sneed. The Bears didn't need a whole lot from their wide receivers against the Jayhawks, but Sneed was the standout on the evening, catching five passes for 51 yards. The 10.2 yards per catch was the part that catches your attention. It's easy to get overlooked at Baylor, especially when you consider the receivers this program has produced in recent years. But Sneed, now a redshirt junior, has a real chance to build on his 2019, in which he caught 42 passes for 437 yards and three touchdowns. Sneed averaged 10.4 yards per catch last year, so he may not top out at much more than that. And while Tyquan Thornton may grab more headlines, Sneed may end up being the steadier of the two players when the season comes to a close.
LB Terrel Bernard. We've devoted space to Bernard in these previews before, and there's a reason we're revisiting him here. He just dominated the Jayhawks last week with eight tackles, 3.5 tackles for loss and 2.5 sacks. He even had a safety. Bernard is on every notable watch list and was on Athlon's preseason all-America team as a fourth-team selection. If you're the Mountaineers, you have to know where he is on every single play on Saturday.
West Virginia
RB Leddie Brown: The running back position has been a bit of a committee at West Virginia the past few years, but Brown is making a play to kick the committee to the curb in 2020. The junior has 23 career games at WVU, but just five starts. But his start to this season has been exceptional, as he is No. 9 country in rushing yards per game (113.5), No. 16 in total rushing yards (227), No. 18 in rushing yards per carry (6.3) and total touchdowns (3) and No. 32 in total points scored (18). He managed 104 yards against a solid defense in Oklahoma State. Last year against Baylor he rushed for just 27 yards. He'll be looking to better that on Saturday.
WR Sam James. His fortunes are certainly tied to those of his quarterback, Jarret Doege. But you can certainly flip that around and make a good argument that the better James is, the better this offense will loo by season's end. While James is averaging five catches in two games, good for just No. 43 in the nation, that is sure to go up as the season progresses. James got a taste of how the rest of the Big 12 is going to treat him this season after catching just four passes for 22 yards against Oklahoma State last weekend. Last year he caught 69 passes. It won't take long for him to gather steam, especially if Winston Wright Jr. keeps producing like he did last week (six catches, 127 yards, 1 touchdown). That is only going to open up more opportunities for James, eventually. 
S Alonzo Addae. The Mountaineers are 90-14 since 2002 when they win the turnover battle, so it's has to heartening for the Mountaineers to see Addae with an interception two games into the season. The redshirt senior is new to the Mountaineers, as he transferred in from New Hampshire after three seasons with that program and sat out 2019. But in just two games Addae has 16 tackles, a pass break-up and the aforementioned interception. He's brought stability to the back line of the Mountaineers' defense.
Key storylines
Baylor
Bears head coach Dave Aranda became just the third head coach since 1959 to win his debut (Chuck Reedy, 1993; Jim Grobe, 2016). Before you get worked up about that, Reedy was gone after four seasons and Grobe was done after one (though, to be fair to Grobe, that was the deal when he took over for Art Briles, as he was the acting head coach). Given the Bears' troubles getting the season started, their Big 12 schedule draw couldn't have worked out better, as they beat Kansas rather easily, 47-14. Aside from Ebner, no Bear had a truly huge statistical game, but it wasn't necessary. The game was a chance for the team to finally get its hands dirty, so to speak. The things that have to be important to Aranda after that game are the following — no turnovers, better than 50 percent on third down and four quarterback sacks. That's useful momentum going int this weekend.
West Virginia
The recipe couldn't have been much worse for the Mountaineers in their Big 12 debut at Oklahoma State. The one fumble West Virginia lost turned into a touchdown. The Mountaineers committed 12 penalties and, even though they won the time of possession game by nearly three minutes, the Cowboys pounded away at the WVU defense on the ground (203 yards). Despite that, having Brown rush for more than 100 yards, Doege throw for nearly 300 and Wright catch more than 100 yards' worth of passes means this offense has juice to it. But it needs to finish off drives. The defense needs some work, especially against the run. This game was probably a more accurate barometer of the improvement needed on that side of the ball.
Prediction
West Virginia 38, Baylor 35
This one is tough. I was at last year's game in Waco, Texas, and while most expected some serious offensive fireworks what we got was a defensive struggle, which Baylor won, 17-14. The home team has always had the advantage in Big 12 play, too, as the home team has won seven of their eight meetings. The Mountaineers have never lost to the Bears at home (4-0), and oddly enough, I covered their last meeting in Morgantown, which came in 2018, with the Mountaineers winning handily, 58-14. Both offenses are firing, but I'll take the home team that hasn't lost a home game yet to this opponent.
**Want to win a $25 gift card? Go sign up here and join our conversation! The best poster each week wins a gift card to your favorite establishment!**