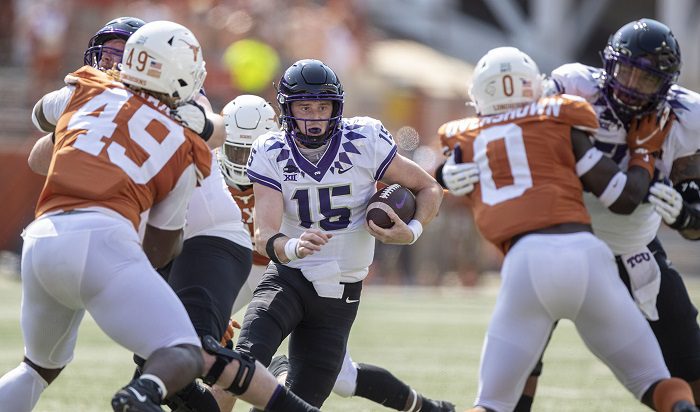 When TCU joined the Big 12 back in 2012, many were skeptical of a smaller school from the Mountain West Conference joining a Power Five conference. Even though they had an established head coach in Gary Patterson who has had plenty of success over the years in Fort Worth, some figured it would take years for the Horned Frogs to be a top team in the Big 12. 
However, one can make a good argument that since joining the Big 12 Conference, they have been the best college football program in the state of Texas. They had some early success with good seasons in 2014 and 2015 and even made a trip to the Big 12 title game back in 2017. And while the last couple of years have been trending in the wrong direction, one thing has stayed the same. That, of course, is Gary Patterson owning the mighty Texas Longhorns posting a record of 7-2 over the last nine seasons. 
Today was no different as TCU entered the day as a double-digit underdog in Austin. Saturday's matchup started out sloppy as the Big 12 refs were out in full force today throwing flag after flag. However, TCU would find the scoreboard first as running back Darwin Barlow hit pay dirt from one-yard out before Texas responded with their own score as Sam Ehlinger hit Jake Smith to tie it up at seven. 
TCU would outscore Texas 13-7 in the second quarter, but luckily for Texas, their red zone defense would keep the Horned Frogs in check even after an ugly interception by Texas quarterback Sam Ehlinger. But even between all the mistakes and flags, the first half ended with TCU up 20-14 as both teams combined for 17 penalties for a whopping 128 yards in the first half. 
The second half looked a little better as TCU would put up three points thanks to an Griffin Kell 49-yard field goal to open up the third quarter, but the Longhorns would respond with a seven-yard touchdown pass from Sam Ehlinger to Roschon Johnson to pull Texas within two. 
The next couple of drives would be stale for both sides as TCU had a three and out with a fumble, along with Texas going three and out twice, while not capitalizing off the turnover in TCU territory. 
TCU would add three more on the board thanks to another Griffin Kell kick, but the Longhorns would finally get their first lead of the game when Sam Ehlinger found Malcolm Epps for a seven-yard score to give Texas a 29-26 lead after a successful two point conversion. 
That lead would not last long, as TCU's Max Duggan took a quarterback draw 26-yards to the house with 4:01 left to give his team a 33-29 lead. Following the score, Sam Ehlinger would lead Texas downfield in just a few plays before running back Keaontay Ingram fumbled the football as he tried to stretch the ball out for a score. TCU would recover the fumble and get a key first down to run out the clock before taking a safety on the final play of the game. And for the seventh time in nine tries, the Horned Frogs would take down the Longhorns 33-31. 
Obviously, this is not a good look for Tom Herman, but it would be hard for me to put all the blame on him in this one. Texas looked and played sloppy, yet had a chance to take a lead late in the fourth quarter before the fumble. Between key drops and the 12 penalties, Texas got in their own way today. But there is a ton of room for improvement for this Texas team. Giving up 226 yards on the ground is unacceptable and when you throw in the penalties, it would be tough to win a game playing like they did on Saturday. 
As for TCU, it appears that quarterback Max Duggan is growing up quickly. In a limited fall camp, Duggan showed he can make some great plays with his arm and his ability to run the football is still as major factor in his game as he ran for two scores today in Austin. And believe it or not, TCU had more penalties than Texas today and found a way to win. Kudos to Gary Patterson, the king of Austin. 
**Want to win a $25 gift card?  Go sign up here and join our conversation! The best poster each week wins a gift card to your favorite establishment!**