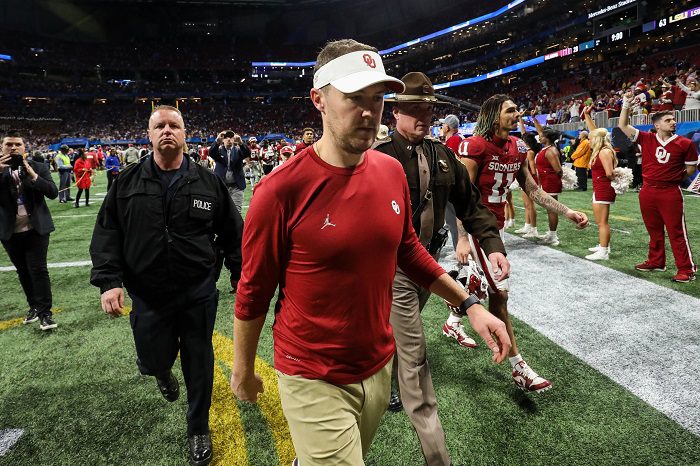 Ah, the years of 1998 and 1999. Of course, I was just a young boy back then, but thanks to the power of technology, I decided to take a trip back in time to find out a few things. Bill Clinton was the president and groups such as the Backstreet Boys were in full swing as well as TLC and Destiny's Child. 
All scrubs aside, the late 90's seemed like a great time. That is unless you were an Oklahoma Sooners fan in the years of 1998 and 1999. Why, you ask? Because after Saturday's loss to Iowa State, Oklahoma fans had a flashback. It has been 21 years since the Sooners have lost back-to-back football games and it has been 22 years since they have lost back-to-back conference games.
Of course, not everyone is going to remember the John Blake years or at least want to remember. But many may forget that when Bob Stoops arrived in Norman in 1999, that first year was not exactly easy. Sure, the 2000 team won it all a year later, but there were a few years of misery to get there.  
And while 2020 is perhaps the most unusual year in our lives, how many of us expected Oklahoma to be in the position they are today? This team is making history but not in a good way. Oh, and by the way, did I mention that they will play Texas this weekend? Don't get me wrong, Texas is no superior team by any means, but in the Red River Rivalry, crazy things can happen to the point where your record going into the Cotton Bowl does not matter on that one Saturday in October.
Oklahoma needs to treat Saturday like a playoff game, because let's face it, with two losses already, their shot at four straight College Football Playoff appearances are probably gone at this point. And right now, their quest for six-straight Big 12 titles are in serious jeopardy. A win against their archrival south of the Red River would be a big step in the right direction and keep their conference title hopes alive by thread. 
But if the Sooners lose on Saturday, everything will be lost. There will be no College Football Playoff and there will be a Big 12 champion not named Oklahoma. And if you think 1998 and 1999 was a long time ago, I have some news for you: If Oklahoma falls to Texas on Saturday, it will be the first time the Sooners start the season at 1-3 since 1965.  
If you are a glass-half-full kind of person, you can look at Oklahoma situation in a different light. It has been over two decades since back-to-back defeats have happened. So that means over the past 20 years, you have seen a successful football program. For younger fans, this is uncharted territory. Back-to-back losses have never happened in your lifetime as a Sooner fan. But you see, history always has a funny way of repeating itself. Sometimes it's cruel and sometimes it's kind. 
Oklahoma's playoff game is not going to be in December or January. It's going to be in Dallas, Texas on October 10th against the Texas Longhorns. The winner will get the golden hat and bragging rights for a year while the loser will likely walk away with nothing as they will be sitting at home watching someone else hoist up the Big 12 trophy in December. 
**Want to win a $25 gift card?  Go sign up here and join our conversation! The best poster each week wins a gift card to your favorite establishment!**