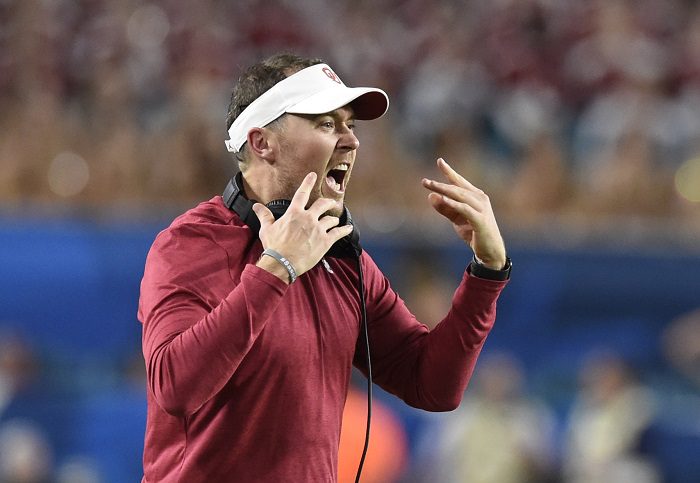 The Oklahoma Sooners have started 2020 in surprising fashion, and it's not the good kind of surprise. OU has blown double-digit leads to both Kansas State and Iowa State in the previous two Saturdays, and lost both contests. The Sooners have not gotten things going in the running game, missed tackles and blown assignments on defense, and even shown some inconsistencies in the passing game. Oh, and then there have been the big mistakes on special teams. It comes down to this: Oklahoma will do a lot of good things for about half to three quarters of a game, then not finish the game off and close out their opponents. So, what is the deal? Should OU fans just expect more of the same, or will there be improvements made?

Let's start by addressing the elephant in the room, Oklahoma, though talented, is a young and undermanned football team, in probably the worst season ever to be a young and undermanned football team.  The Covid-19 pandemic has affected every team, but certainly it is not going to impact every team the same or equally. When you look at the Oklahoma defense specifically, you lose your best three players from last season to the NFL, and then you lose your next best three players to injury, opt-out and suspensions.
Oklahoma also expected to play many of the young players on their roster this season, but because of contact tracing and reduced camp, many of these players have missed out on the reps needed to be on the field. Against Iowa State, when Bookie (Brendan Radley-Hiles) was having a rough game, there was no bullpen to replace him. You can put Jeremiah Criddell, Tre Norwood or Bryson Washington out there for tons of snaps, but it probably would not help considering those three have about two weeks of practice under their belts this year.
If Oklahoma had Jalen Redmond, Ronnie Perkins, Trejan Bridges, Kennedy Brooks, Rhamondre Stevenson and Caleb Kelly, or even some combination of these guys, I believe OU would be 3-0. But this is football and it is the ultimate team sport, and it will test your love for the game, and it will test your grit, and test your depth. It requires you to find leadership. Who is going to be that alpha male like Kenneth Murray was for OU in 2019? Who is going to hold people accountable like Caleb Kelly? Who can you lean on to get a play when things get tough like OU could with CeeDee Lamb or Kennedy Brooks? Who is going to be that player for OU? Is one of the young guys going to step into this role? Will it be Ronnie Perkins, who appears to be all systems go for the Red River game this weekend? (Lincoln Riley states no news there, but many publications are reporting they expect him back). Will it be Spencer Rattler finally taking command? Oklahoma will have to find out who their leader is, and they will need to do it fast.

There is some silver lining for the Sooners. OU is going to be getting Trejan Bridges and Rhamondre Stevenson back shortly and it's welcomed. Bridges has been a big-time practice player for the Sooners, and he would be starting right now, if he were available. Stevenson is a seasoned back who will likely make the NFL jump after the year. OU has not had tremendous production out of the backfield, and while many want to place blame at the feet of the offensive line, the film shows holes on the ground and a lack of execution by running backs.
Also, OU should have the very-talented wide out Jadon Haselwood back before the end of the month.
But regardless, Oklahoma's biggest enemy has been themselves. The busts in coverage and tons of missed tackles are issues can be fixed. Oklahoma had the fewest missed tackles in the Big 12 conference last season. These issues can be fixed. It starts this Saturday when OU must take down Texas and get to the bye week and get back to the lab. It has been a brutal start for Oklahoma, but this is the Sooners, and this is Lincoln Riley. Even with a 1-2 start, it's far too early to count them out, and while the Kansas State loss was appalling, the trip to Ames was one of the tallest tasks on OU's schedule.
Oklahoma is at a crossroads. They can bounce back or they can drop an unprecedented third-straight game.  It will be interesting to see the character of this team on Saturday, but make no mistake any reason for failure, legitimate or not, will be viewed as an excuse in Norman. This is Oklahoma where you are expected to reload, not rebuild. Saturday is a must-win for Oklahoma, and quite frankly so are the other six games remaining on their schedule. 
**Want to win a $25 gift card?  Go sign up here and join our conversation! The best poster each week wins a gift card to your favorite establishment!**