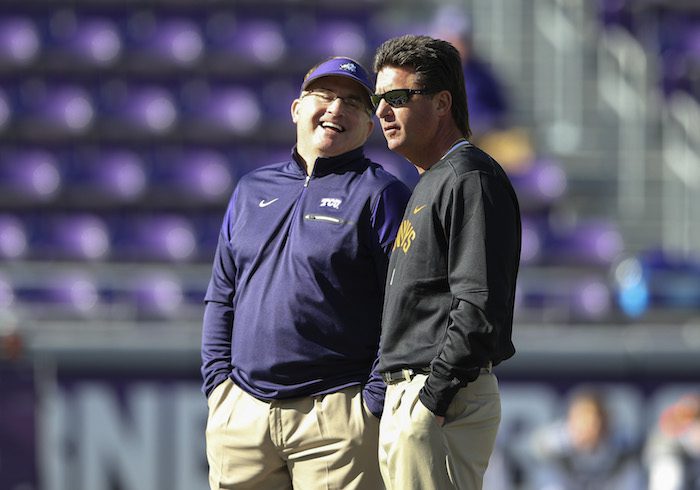 Welcome to the HCS Big 12 mailbag. This mailbag is for all you football junkies out there who root for a Big 12 school who not only have questions about your team, but other teams in the conference as well. So, join me, grab a cold brew or your favorite drink and relax as I answer all your Big 12 questions in my mailbag.
I will pick the best question for each mailbag and label it as my question of the week. The winner gets a free HCS Koozie to keep your beer cold (Unless you like it warm, but that's just plain wrong). I want to thank each one of you who submitted a question this week and for those reading, I am glad you could join me. I am doing this on Monday evening and of course this mailbag wouldn't be nearly as fun without a cold beverage right next to me choice? An ice-cold Busch Beer. No, not a Busch light. A regular classic Busch Beer. A tall boy of course. Cheers!
Just a heads up, this week's mailbag was so full that I had to break it into two parts, and this is part two of the mailbag.
@Chrissboom_ asks: I'll make you do a little research, when is the last time both teams have come into the Red River Rivalry following a loss?
Duke: Believe it or not, I did not have to dig too far for this answer. Go back to the 2014 season as Texas entered the Oklahoma game at 2-3 fresh off a loss to Baylor. Meanwhile Oklahoma entered the Red River Rivalry game that year at 4-1 losing to a good TCU team the week before.
@louisdjKSU asks: Of this week's Iowa State and Kansas State games along with Oklahoma State's game next weekend, which will be the closest? Which will be the most lopsided?
Duke: Let me get the readers on the same page here. Iowa State hosts Texas Tech this weekend while Kansas State takes on TCU in Fort Worth. And next weekend Oklahoma State travels to Baylor. This is tough considering Kansas State quarterback Skylar Thompson is listed as questionable for Saturday's game and so is Texas Tech quarterback Alan Bowman. I would say which ever quarterback does not play, they would have the most lopsided loss but if both play, I will go with the Iowa State/Tech game being the closest. Why? Because Tech has weapons at receiver. As for the most lopsided give me Oklahoma State/Baylor. I just do not think Baylor is a very good football team right now. They cannot score points and it will be tough against an incredibly good Cowboy defense. Congrats, the question of the week belongs to you. This one was tough one.
@CoachBoeckman asks: What is your early prediction for the Big 12 title game and your winner.
Duke: Another tough one but since I picked Oklahoma State to make it to Jerry World to start the season, I will stick with the Cowboys as one of my teams to make it. As for the other team, I would go with Iowa State as of right this very second. They have played the toughest Big 12 schedule so far beating TCU and Oklahoma and their toughest games left will be against Oklahoma State, Texas, and Kansas State. I could easily see them going 2-1 against those three teams to finish off with an 8-1 Big 12 record. Both defenses are solid, and I even think both offenses have two key weapons. Iowa State has Charlie Kolar and Breece Hall while Oklahoma State has Chuba Hubbard and Tylan Wallace. However, I will take Brock Purdy over Spencer Sanders when he comes back so I would have to go with the Cyclones. I am sure that will make a lot of people happy here.
@bob66668047 asks: Kansas State coach Chris Klieman signs a new extension. Oklahoma and Texas faltering. Time for you to rank B12 coaches with rationale?
Duke: That is a good question Bob, and I could go on and on about why I have coaches where they are, but this would be my list as of right now.
Lincoln Riley- Best offensive mind in college football.
Gary Patterson- One of the best defensive minds in college football. 
Mike Gundy- He still wins a lot of games. 
Matt Campbell- Rising Coach. 
Chris Klieman- Rising Coach. 
Tom Herman- Dropped a few spots. 
Neal Brown- Another coach going in the right direction at WVU. 
Matt Wells- Not sure what he will do yet. 
Les Miles- Yes, he won a Natty, but he is not the same coach as he once was. 
Dave Aranda- Rookie.  
**Want to win a $25 gift card?  Go sign up here and join our conversation! The best poster each week wins a gift card to your favorite establishment!**