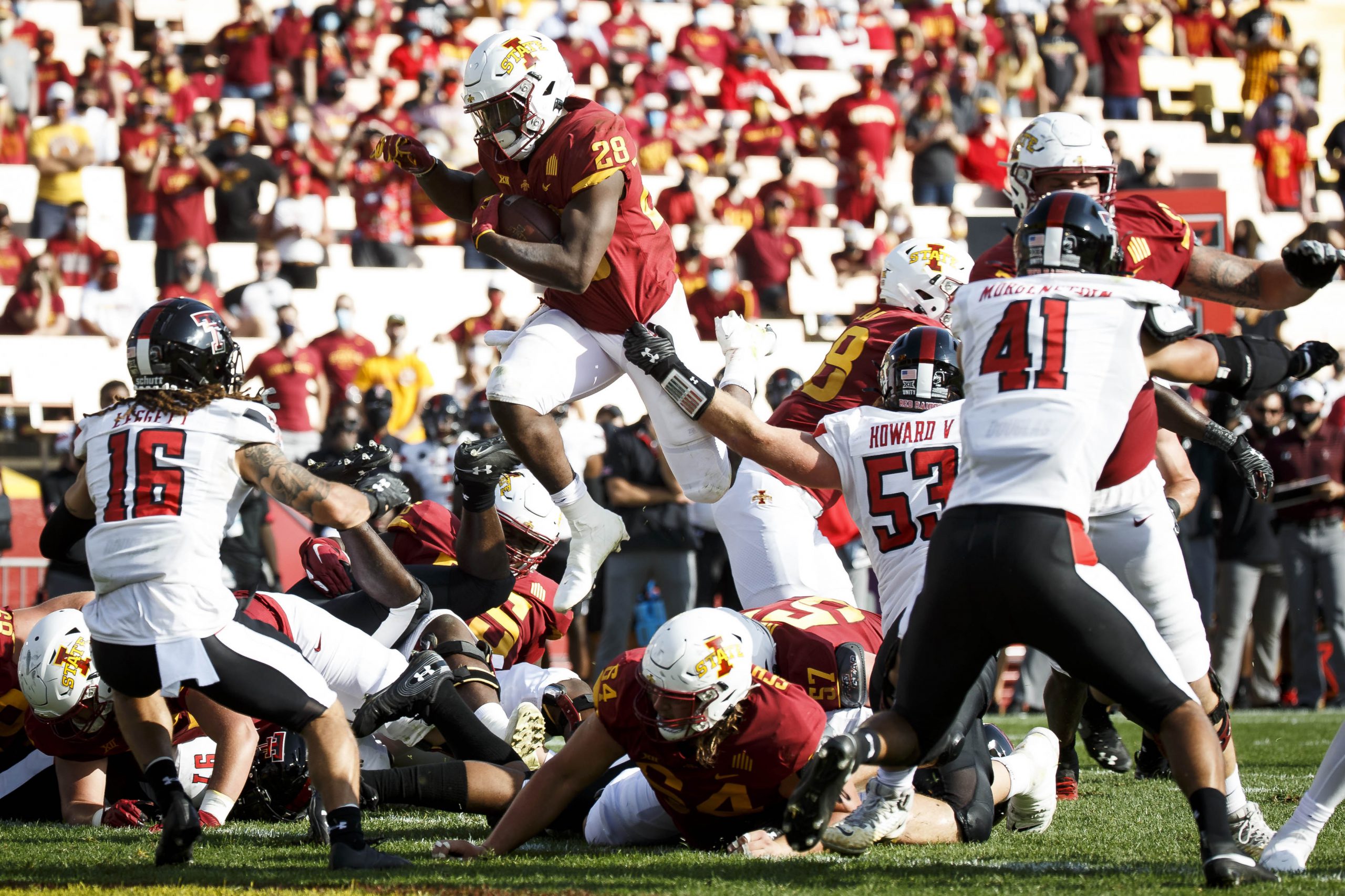 Ever since Matt Campbell stepped on campus as Iowa State's head coach, he has done many great things for the program. He has brought the Cyclones three straight bowl games and has found success at Iowa State that has not been seen since the late 1970's. Oh, and did I mention that Matt Campbell has beaten Texas Tech five straight times now?
This game was never in doubt for the Cyclones even with Texas Tech quarterback Alan Bowman playing today. Tech would get on the board first thanks to a blocked field goal return for a score but after that, it was all Iowa State.
Iowa State quarterback Brock Purdy lead a beautiful second drive that resulted in a Bree Hall touchdown run to tie the game at seven. And for the Cyclones, that would be the first of three straight touchdown drives as Breece Hall would score another and Chase Allen caught a Brock Purdy touchdown pass.
That would sum up the first half as Iowa State led Texas Tech 21-7 and absolutely dominated the Red Raiders on both sides of the ball. In just one half of play, Iowa State outgained Texas Tech 325-69.
That trend would continue in the second half as Purdy would find tight end Charlie Kolar for a 13-yard touchdown pass in the third quarter before kicker Connor Assalley drilled a 26-yard field goal to give Iowa State a 31-7 lead.
And just as bad as the first two quarters were for Texas Tech, the third quarter yielded similar results as the Red Raiders had just 95-yards of offense after three quarters of play.
Henry Columbi would replace Alan Bowman late to help Tech score a late touchdown score to Erik Ezukanma and even after a successful two point try, Iowa State would still go on to win 31-15 as they put up over 500 yards of offense on the Red Raiders.
For Texas Tech, the loss will push them back to 1-3 and 0-3 in Big 12 play. There is no sugar coating this performance. The Red Raiders were 0-10 on third down and their offense looked awful as they appeared to be scared to push the ball downfield. The offense was bad, and the defense had no answer for the Iowa State rushing attack.
As for Iowa State, they move to 3-0 in the Big 12 and as of right now, they appear to be in the driver's seat for the Big 12. This team is running the football extremely well with Breece Hall and are playing good defense. Those two things are a big part of the recipe of success in the game of football. The Cyclones are now 12-1 in the month of October (Or Brocktober) since 2017. However, they do have a huge test in two weeks as they will take on Oklahoma State.
**Want to win a $25 gift card? Go sign up here and join our conversation! The best poster each week wins a gift card to your favorite establishment!**