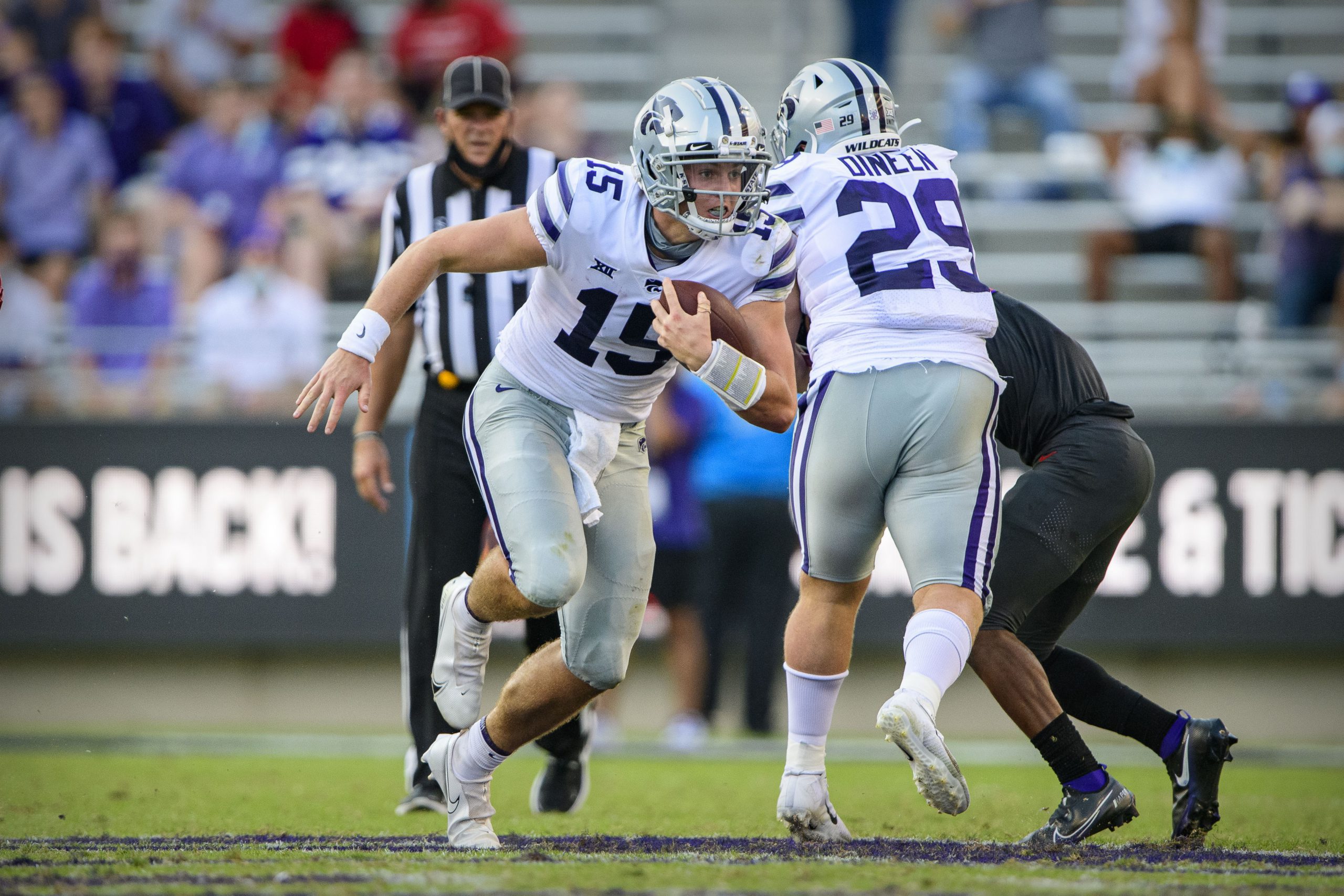 When the national media talks about the Big 12, many people will bring up Oklahoma State, Iowa State and of course Texas and Oklahoma this season. But after today, there are only three teams who are undefeated in Big 12 play. And the Kansas State Wildcats are one of those teams, yet they seem to get zero respect. Yes, they lost to Arkansas State in week one but sine then they have beaten Oklahoma and Texas Tech.
On Saturday, the Wildcats took on a TCU team who was fresh off a victory over Texas but there was one problem for Kansas State. They were without starting quarterback Skylar Thompson and backup Will Howard got his first start. But that did not seem to matter to head coach Chris Klieman and his next man up approach attitude.
Kansas State would go up 3-0 early after a Blake Lynch 25-yard field goal but TCU would respond with a nice ten play 75-yard drive that took over five minutes off the clock. That drive would end with a Darwin Barlow 7-yard touchdown run to put the Frogs up 7-3.
But from there, the Kansas State defense would takeover as they held TCU to just eleven plays on offense for the rest of the half as they forced TCU into two three and outs and one five play drive.
Meanwhile, the Wildcats would add another Blake Lynch kick before quarterback Will Howard rushed for a short touchdown. That puts Kansas State up 14-7 after a successful two-point try.
The second half was a defensive lover's dream as Will Howard's first pass in the third quarter was an interception which believe or not was Kansas State's first turnover of the 2020 season.
But TCU could not capitalize off the turnover as it would be Kansas State's AJ Parker who picked off Matthew Downing and took it all the way for six as Kansas State would go up 21-7 in the third quarter.
TCU quarterback Max Duggan got hit plenty in this game and he would share a little time with Matthew Downing but when it came down to crunch time, Duggan would be their guy and it worked late. Max would score on a fourth and goal run with just 3:39 left to cut the lead to seven.
The Horned Frogs would get one last crack at it late after Kansas State failed to run the clock out but the comeback fell short as the final play of the game ended with a Hail Mary pass that was not answered.
There is no doubt that this was a tough and physical game on both sides. Both teams ran the ball, but it was the lack of any passing game on both sides that really made this an offensively challenged game. Luckily for Kansas State, they made some key defensive plays to help win this game and stay unbeaten in Big 12 play.
**Want to win a $25 gift card? Go sign up here and join our conversation! The best poster each week wins a gift card to your favorite establishment!**