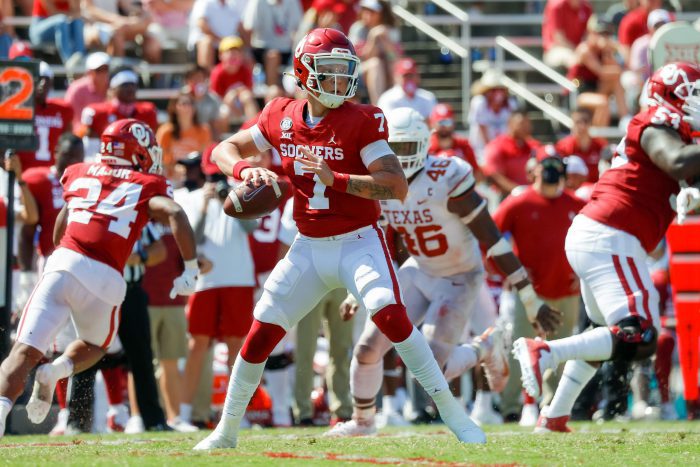 There may be no atmosphere quite like the Cotton Bowl. On an early October Saturday, two historic programs meet up to play perhaps one of the best rivalry games in all of college football. Of course, all of this happens during the world-famous Texas State fair and between the fried food, the beer and football, there is no better place to be.
Normally, there are over 90,000 fans and half the stadium wears crimson and cream while the other wears burnt orange and white. But this is not your normal year. And this not your normal Texas and Oklahoma football teams.
Oklahoma is coming of their first back to back losses in over 20 years and were sitting at 0-2 in Big 12 play before the game even started. Meanwhile, Texas was fresh off their own ugly loss against TCU a week ago. And the Longhorns could very easily have been 0-2 in conference play as well if not for their miracle comeback in Lubbock.
But in this game, you can throw records out the window. No matter if you are 0-3 or 3-0, you are going to get the other team's best shot. And shots were exactly what might have been needed to watch this whacky game.
The day started with the Sooners going three and out before Texas running back Keaontay Ingram coughed up the football to give Oklahoma great field position. On the very next drive for the Sooners, Spencer Rattler would find Marvin Mims for a wide open 30-yard score to put Oklahoma up 10-0 mid first quarter.
However, back to back Spencer Rattler turnovers would give Texas some momentum as they also were able to score ten points from Oklahoma turnovers thanks to a Cameron Dicker kick and a Sam Ehlinger touchdown run.
After the back to back turnovers, Spencer Rattler was benched for backup quarterback Tanner Mordecai. And thanks in large part to a blocked punt, the Sooners were able to capitalize with a 7-yard run by Marcus Major. But Texas would answer the call with an eight play 75-yard drive that ended with Sam Ehlinger running in another score. That put the game all tied at seventeen and that is how the first half ended.
In the second half, the Sooners took over with Spencer Rattler back and in the third quarter, they absolutely dominated the Longhorns up front on both sides of the football. In the process, running back T.J. Pledger would score both of his rushing touchdowns on the day in the third quarter and going into the fourth, Oklahoma had a 31-17 lead.
During that time, Sam Ehlinger was off, and the Texas offense never found a rhythm. And with 7:02 left to play, Ehlinger threw a back breaking interception in the endzone and just about everyone thought that would be the final blow for Texas.
But this is 2020 people and of course, the unexpected happened. Texas would force a three and out and when they got the ball back, it only took four plays for Sam Ehlinger to find Joshua Moore for the score. That cut the deficit to just seven with 3:28 left to play.
On the ensuing kickoff, Texas attempted to kick on onside kick but could not recover it. But it did not matter because the Longhorns defense forced yet another three and out to give them the ball back with about two minutes left.
Texas would march down the field and with just fourteen seconds left, Sam hit Keaontay Ingram for a short score to tie up the game at 31 to force overtime.
Both teams would trade scores in the first two overtimes as Sam Ehlinger ran for two more touchdowns in overtime while Oklahoma's came from a Spencer Rattler sneak and a pass to tight end Austin Stogner.
And while that was entertaining, it had nothing on what the third overtime brought us. After a blocked Cameron Dicker kick, all the Sooners had to do was score to win the game. But when it came down to crunch time, Oklahoma kicker Gabe Brkic shanked a 31-yard field goal to force a fourth overtime.
But it took the Sooners just two plays to find paydirt as Spencer Rattler hit Drake Stoops and then converted the two-point conversion as he found Theo Wease to put Oklahoma up 53-45. And as tired and gassed as the Sooners defense was, they ended up making the game winning play as Tre Brown picked off Sam Ehlinger.
For Tom Herman, it was yet another loss to their Red River rival as Texas is now 1-4 against the Sooners since he took over in 2017. It is one thing to play a clean game and lose but when Texas has as many metal mistakes and undisciplined errors, it is a direct reflection of the coach. And right now, Texas is not a particularly good football team and Tom Herman is not a good head coach. Yes, there is talent at Texas but until this team can find a way to get out of their own way, there will be no celebrating in Austin anytime soon.
As for the Sooners, it was a much-needed victory. A loss here would have put Oklahoma at 0-3 in conference play and they would have had to kiss their reign of a possible sixth straight Big 12 title goodbye. But even with slim odds to make it to Jerry World, Oklahoma needs to clean up a few things. This team needs to learn how to finish games and over the last three weeks, they have had chances to do it and it took an unnecessary effort today to get the job done when it should have been handled in regulation. But welcome to 2020 people. Expect the unexpected.
**Want to win a $25 gift card? Go sign up here and join our conversation! The best poster each week wins a gift card to your favorite establishment!**