The Heart Beat
The Heart Beat (Oct. 12): Iowa State Controls Big 12 Fate, Tech Fans Hurting, and More!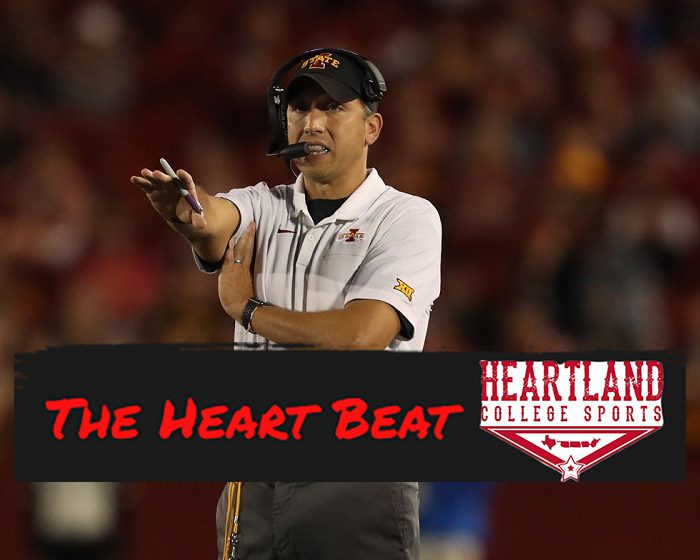 It's time for our links to our favorite bunch of Big 12 content from the previous 24 hours. Think of it as a brunch/lunch links for you to avoid and delay work, plus your boss!
**If there is ever content you'd like us to consider for the following day's Heart Beat, please email me directly: [email protected] or direct message us on Twitter (@Heartland_CS)
Big 12 Content
Despite the loss to open the season, Iowa State is now in full control of its Big 12 fate.
Who were Kansas State's top 10 performers following the team's win over TCU?
Let's take a look at Berry Tramel's Power Rankings for The Oklahoman.
How are Texas Tech fans feeling after another loss? Here are "Ten Things" following the game against Iowa State from Staking the Plains.
Here are Oklahoma's bests and worsts following their four-overtime thriller against Texas.
Let's take a look at one of West Virginia's true freshman who is off to a hot start with the Mountaineers.
One of the many, many concerns for KU football right now is the offensive line.
Non-Big 12 Content
After Lane Kiffin took his former coach Nick Saban down to the wire, Saban wonders if Ole Miss knew some of the Bama signals.
Did any Big 12 teams make it to Sports Illustrated's Top 10?
Time for some new bowl projections from CBS Sports. Where are the Big 12 teams heading?
**If there is ever content you'd like us to consider for the following day's Heart Beat, please email me directly: [email protected] or direct message us on Twitter (@Heartland_CS)