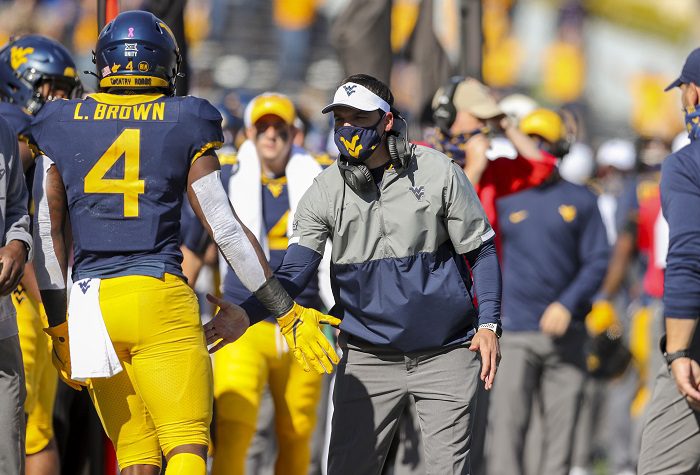 It wasn't always pretty. In fact, Neal Brown will likely admit as much, but a win is a win as the West Virginia Mountaineers picked up a 38-17 win over the Kansas Jayhawks in Morgantown on Saturday.
However, it didn't always look like it was going to go the Mountaineers' way, as WVU was playing in front of a home crowd (25% capacity) for the first time all season.
The Mountaineers fumbled on their opening drive, as WR T.J. Simmons had the ball knocked out by Denzel Feaster and was recovered by Duece Mayberry. KU then scored the first points of the game on a field goal to go up 3-0.
On the next drive, Kansas QB Miles Kendrick hit Andrew Parchment for a 43-yard touchdown on a pass that went off the hands of WVU, as KU jumped out to a 10-0 first quarter lead.
Suddenly, it looked like the Jayhawks might snap their 50-game road losing streak in the Big 12 that dates back to October 4th, 2008, when the Jayhawks won in Ames against Iowa State.
Two drives later, WVU got on the board as QB Jarret Doege found Bryce Ford-Wheaton on a post route for a 33-yard touchdown to cut it to a 10-7 game with under five minutes left in the first quarter.
The Mountaineers then took the lead in the second quarter when they put together a 10-play, 91-yard drive that saw running back Leddie Brown touch the ball on eight of those ten plays and then score on a six-yard reception from Doege.
WVU took a 17-10 lead into halftime, but it was the second half where the Mountaineers took control of the game.
That being said, it didn't happen right away. Doege threw an interception in the opening drive that came deep in KU territory. But the WVU defense continued to hold its own, forcing its third-straight three-and-out.
Two drives later, Leddie Brown had his best moment of the game, an 87-yard touchdown run as the Mountaineers took a 24-10 lead at the 3:37 mark of the third quarter.
The following drive went four plays and 48 yards, ending with a Sam James eight-yard touchdown reception, which came after James had a pair of big drops in the first half. The route was on as WVU went up 31-10 and ended the game with a 38-17 win over the Jayhawks.
Leddie Brown piled up 195 rushing yards on 18 carries and one touchdown, while adding five receptions for 36 yards and one touchdown reception.
Jarret Doege finished 26/44 for 318 yards with three touchdowns to one interception, while Bryce Ford-Wheaton had his best game yet with five catches for 89 yards and a score.
Meantime, the WVU defense continues to prove it will likely be one of the stingiest in the Big 12 this season. The Mountaineers held Pooka Williams to 21 rushing yards on 11 carries (although he did have a kick return for a touchdown in garbage time). KU had just 157 total yards of offense on the day, with 95 passing and 62 rushing for 2.0 yards per carry.
With the win, the Mountaineers are now 3-1 overall and 2-1 in Big 12 play, while KU fell to 0-3 in the conference and 0-4 overall.
KU travels to play Kansas State next week in the Sunflower Showdown, while the Mountaineers hit the road to Lubbock to play the Texas Tech Red Raiders.
**Want to win a $20 gift card? Go sign up here and join our conversation! The best poster each week wins a gift card to your favorite establishment!**