Big 12 News
Joel Klatt Believes West Virginia Can Play for a Big 12 Championship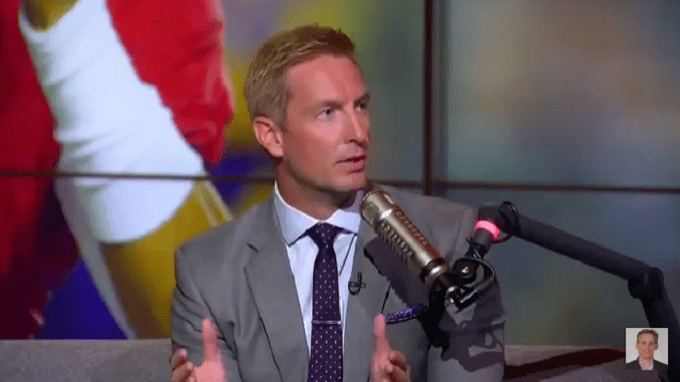 Hey, it's 2020, anything can happen, right? And according to FOX Sports' Joel Klatt, that includes the West Virginia Mountaineers making a run to the Big 12 Championship Game.
The Mountaineers are coming off a 38-17 win over the Kansas Jayhawks on Saturday in Morgantown, and WVU is now ranked as the No. 1 defense in the country based on total defense. Combine that, with stud running back Leddie Brown, who ran for nearly 200 yards on Saturday, with an 87-yard rushing touchdown, plus a receiving touchdown, and Klatt said over the weekend he's very high on the Mountaineers.
"I'm so impressed with Leddie Brown at West Virginia," Klatt said on Twitter. "If you're a West Virginia fan, you've got a real dude back there. In particular, he doesn't have to share carries back there. Leddie Brown is the real difference and he's the type of guy that could carry you through a Big 12 schedule. The sky's the limit for that run game. (A big question): if the passing game can come alongside Leddie Brown and take some of that pressure off of him."
Klatt went on to praise the defense, which has been outstanding at every level this season, saying, "The other side of the football, the defense was terrific. They went out there and were put in a hole early due to the field position and turnover on the first series. They gave up 10 points but didn't panic and stuck with their gameplan and dominated. It was all three levels of that defense that were dominant. Darius Stills, I believe, is one of the best players in the Big 12….They've got some pieces to continue to play some great defenses over the course of this season."
What does Klatt think is the big question for the Mountaineers? Quarterback Jarret Doege, who has been inconsistent this season.
"If Jarret Doege can play consistently like he did in the third and fourth quarter, then I think West Virginia has some potential here. I know they lost a game in the Big 12, I don't think it's out of the realm of possibility…that they could be playing for a chance to go to the Big 12 title game. Listen, I think crazier things could happen. You never know what can happen in 2020. So West Virginia, good on you," Klatt said.
The Mountaineers are 2-1 in Big 12 play, trailing Oklahoma State, Iowa State and Kansas State in the rankings. WVU travels to Lubbock to take on Texas Tech this weekend at 4:30 p.m. CST.
**Want to win a $20 gift card? Go sign up here and join our conversation! The best poster each week wins a gift card to your favorite establishment!**